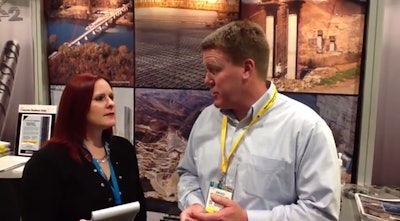 Irvine, Calif.-based MMFX Steel Corporation's uncoated, high-strength steel and corrosion resistant product, MMFX2, has been used successfully throughout the transportation industry.
However, not all projects need corrosion resistance so the company saw a need to develop a high-strength steel without corrosion inhibitors.
The result was the development of ChromX 4100, which doesn't have corrosion inhibitors and serves as a more economical choice for projects where only high-strength steel, not corrosion resistance, is needed. Less steel is used, so it's a less expensive option.
[youtube D5zuiepXHSw nolink]
ChromX 4100 has the same mechanical properties of high-strength ASTM A1035 reinforcing steel, and it is based on the technology used to manufacture the uncoated high-strength and corrosion-resistant MMFX2 reinforcing steel, Kevin Bates, vice president of sales and marketing for MMFX Steel Corporation, tells Better Roads in an exclusive interview at World of Concrete 2014.
"We've modified the chemistry but have achieved the same microstructure so it maintains the same mechanical properties of the MMFX2," Bates says.
Manufacturing this high-strength steel results in a low-carbon martensitic steel microstructure with high ductility, he says. Unlike common carbon steel rebar, which loses ductility as strength is increased, ChromX 4100 is able to maintain ductility and can be fabricated like conventional reinforcing steel.
Grade 100 ChromX 4100 high-strength rebar allows structures to be designed and built with up to 40 percent less steel, Bates explains.
He says that additional cost reductions of up to 60 percent can be achieved through lower steel fabrication and placement labor costs.
Check out the video above to see Better Roads interview with Bates at World of Concrete 2014.