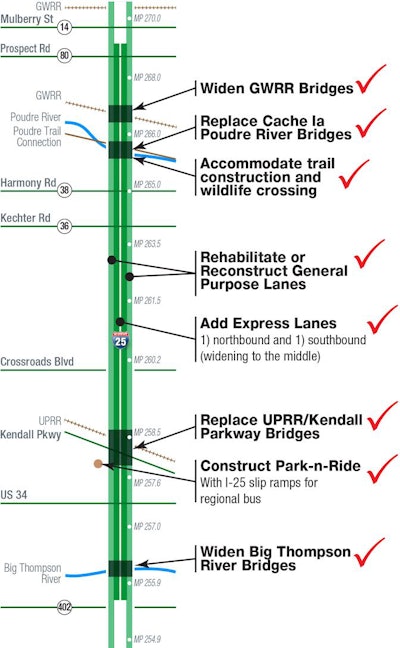 The Colorado Department of Transportation has approved a $248 million contract to add Express Lanes on Interstate 25 from Johnstown to Fort Collins, with work expected to start this summer.
Kraemer/IHC won the contract to add an Express Lane in both directions, replace aging bridges, widen bridges, create new pedestrian and bicycle access under I-25 at Kendall Parkway, and connect the Cache la Poudre River Regional Trail under I-25, according to CDOT. Work is scheduled to be completed in 2021.
CDOT says the project involves improving mobility and traffic operations and increasing intermodal connections.
During construction, motorists can expect two lanes of travel in each direction to remain open during the day, with lane closures occurring at night when traffic volumes are lower, CDOT says.
Express Lanes are designed to relieve traffic congestion by encouraging carpooling or taking public transportation. Motorists can carpool or ride the bus and avoid tolls on the lanes. Solo drivers wanting to use the lanes can pay a toll. Solo drivers who don't want to pay the toll can stay in the regular lanes.