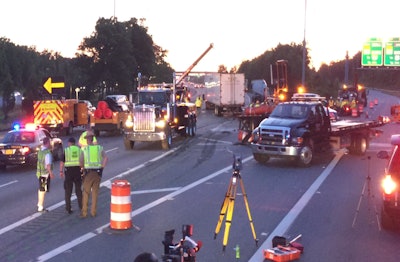 Alarmed at the statistic that 50,000 deaths and injuries occur each year in or around U.S. road and bridge construction sites, a national organization has developed a safety training certificate with the goal of creating incident-free transportation work zones worldwide.
So far, 111 candidates have been listed as earning the Safety Certification for Transportation Project Professionals since it began in late 2016. The program is administered by the American Road & Transportation Builders Association's Transportation Development Foundation.
"Our goal is to help cause a demonstrable reduction in the number of deaths and injuries that occur on and around transportation project sites each year," says ARTBA President Pete Ruane. "We believe we can do that if all of the key decision makers, from project inception through completion, have safety top of mind."
Earning the certificate requires candidates to pass a 2.5-hour exam of 120 multiple-choice questions. The ARTBA says the exam is open to transportation project workers, supervisors, foremen, managers, designers, planners, owners, equipment operators, manufacturers and materials suppliers.
The ARTBA hopes to one day "ensure the safety and well-being of construction workers, motorists, truck drivers, pedestrians and cyclists and their families by making transportation project sites worldwide zero safety-incident zones."
Gaining support
About six months after starting the transportation safety certificate, ARTBA won the endorsement of the National Asphalt Pavement Association, which has more than 1,100 member companies.
NAPA has been urging its member firms and their employees to earn the credential. It has helped develop the online courses, so they incorporate safety training specific to asphalt paving and milling. And it has recruited members for the certificate program's team of experts, which creates the exam questions.
"We are excited to partner with ARTBA to develop and promote training tools that will aid companies in implementing best practices proven to help eliminate work-zone incidents," says NAPA President Mike Acott.
In developing the program, ARTBA hired Professional Testing Inc. (PTI) consulting firm. PTI has created state, national and international exams, including ones for construction licensing and various professional associations. The ARTBA says the program has been designed to meet protocols for accreditation by the American National Standards Institute (ANSI) and the International Organization for Standardization (ISO).
ARTBA also formed the independent, nine-member Certification Commission with leaders representing the transportation planning industry, government agencies, labor unions, and trucking and insurance industries.
It chose as its co-chairmen national safety advocates David Walls, president and CEO of Austin Industries, based in Dallas, Texas, and Ross Myers, chairman and CEO of Allan Myers Inc., based in Worcester, Pennsylvania.
For Walls and Myers, the prevention of work-zone accidents and fatalities has personal meaning.
"During our careers in the transportation construction industry, we've been to the funerals of company employees or industry colleagues," they wrote in an April article they co-authored on Asphalt Pro website. "We have listened to moms and dads, grandparents and siblings share stories about their loved ones. Sometimes there is just not much you can say to console them, but we come away from these events with a renewed commitment that such incidents should never happen again."
Online exam prep
The ARTBA foundation developed eight online courses to help candidates prepare for the exam. The certification is good for three years and costs $400 for the application and exam fee.
The courses carry professional development hours and cover the following issues:
Leading a team and avoiding miscommunication mistakes.
Identifying and addressing nighttime work hazards in various climates and surroundings.
Detecting and reducing the risks of common transportation worksite hazards.
Selecting and maintaining personal protective equipment and establishing a culture in which everyone uses them.
Implementing traffic control plans to manage workers and equipment in a work zone, and drivers and pedestrians outside the zone.
Implementing safety measures for working in trenches, other excavations, confined spaces and above ground.
Assessing jobsite risks and implementing strategies to eliminate them.
Creating worksite safety plans based on OSHA regulations.
For more information about the Safety Certification for Transportation Project Professionals, go to puttingsafetyfirst.org/.