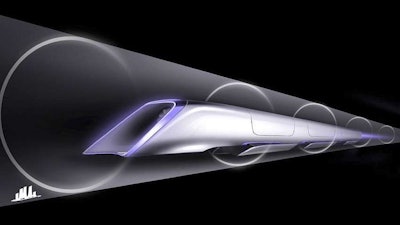 Hyperloop One, which has launched a competition to decide where to build its first high-speed train system, has received the backing of Richard Branson and his company Virgin Group, according to UPI.
Branson's investment was large enough for the private startup company to change its name to Virgin Hyperloop One. Branson will serve on its board.
Last month, Hyperloop raised $85 million, including money from Branson and Virgin, according to CNBC. Branson declined to disclose the amount of his investment.
"Ever since our creation, Virgin has been known for disruption and investing in innovative companies," says a company statement on the Virgin website concerning the investment in Hyperloop One. "From our airlines to our trains to our spaceline, we have long been passionate about innovation in transport too, especially the development of technology that could transform people's lives. This is just the latest example. Importantly, Virgin Hyperloop One will be all-electric, and the team is working on ensuing it is a responsible and sustainable form of transport too."
Hyperloop One has built a full-scale Hyperloop test system in Apex, Nevada. The transit system would load passengers and cargo into pods that move by electric propulsion through a low-pressure tube. The pod would lift above the track by magnetic levitation and glide at speeds of up to 700 mph, according to the company.
Hyperloop One has chosen 10 potential spots for a Hyperloop: Cheyenne, Wyoming-Denver-Pueblo, Colorado; Chicago-Columbus-Pittsburgh; Miami-Orlando; Dallas-Houston; Edinburgh-London; Glasgow-Liverpool; Mexico City-Guadalajara; Bengaluru-Chennai, India; Mumbai-Chennai, India; and Toronto-Montreal.
The company has also entered a partnership with the Colorado Department of Transportation to conduct a feasibility study for the Cheyenne-Denver-Pueblo route.
Hyperloop One is among other companies racing to advance the experimental technology. The Boring Company wants to build a Hyperloop between San Francisco and Los Angeles, and Hyperloop Transportation Technology hopes to build one in Quay Valley, California, according to The New York Times.
Hyperloop One told the Times it hopes to have three Hyperloop systems operating by 2021.