The Design-Build Institute has awarded four transportation projects with its annual National Award of Merit. The projects will go on to compete for the Project of the Year, which will be announced at the group's annual meeting in November.
The four projects include:
Dallas Horseshoe Design-Build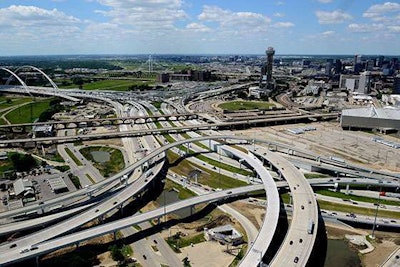 Cost: $723 million
Design-builder: Pegasus Link Constructors
General Contractor: Pegasus Link Constructors
Challenge Design-Build Project Delivery Addressed:
Texas Department of Transportation (TxDOT) chose design-build delivery to capture these benefits:
Ability to manage a complex traffic control plan without significantly inconveniencing the traveling public by using the unpopular traditional method.
Significantly faster completion compared to conventional delivery which would add years to the project duration.
Appropriate transfer of complex risks to a single entity with a single point-of-contact for all stakeholders.Elimination of designer and builder disagreements through promotion of a truly collaborative team to reduce disputes, eliminate of claims and mitigate potential litigation between various parties.
Summary:
TxDOT needed to rapidly replace two Interstate bridges over the Trinity River in downtown Dallas and ease traffic congestion, while keeping half a million vehicles daily moving. PLC and WSP/AECOM deployed a complex plan to maintain traffic flow, while building most new work away from vehicles. The team used concrete spliced girders to span the river, protected and kept major utilities in service and eliminated left exits and other complicated movements to streamline traffic flow.
Rogersville Project Freeway Design-Build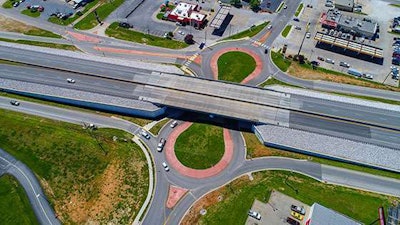 Cost: $32.2 million
Design-Builder: Radmacher Brothers Excavating
General Contractor: Radmacher Brothers Excavating
Challenge Design-Build Project Delivery Addressed:
Sean Matlock, PE, Missouri Department of Transportation (MoDOT) Project Manager stated, "In design-build, all work is incorporated into one contract and decreases the project delivery time, while allowing the design team to incorporate innovations and efficiencies into the project. This gives more flexibility and allows changes within the project design as challenges arise. It was expected with design-build that teams would deliver innovative interchange designs at Route B/VV, providing access to adjacent properties, maintaining traffic during construction, delivering the needed right-of-way acquisition plans on a tight schedule, keeping project costs under control and delivering a successful project to the community."
Summary:
Rogersville Project Freeway in Missouri consisted of converting four miles of US 60 into an access-controlled freeway to facilitate safe and efficient traffic movement. MoDOT used a unique procurement strategy that allowed maximum innovation. The Ozark Regional Road Constructors team rose to the challenge by devising two unique grade separated interchange concepts, which enhanced traffic operations, improved safety and significantly reduced right-of-way acquisition costs, which was a major selection criteria established by MoDOT during procurement.
Sisters Creek Bridge Replacement Design-Build
Cost: $43.7 million
Design-Builder: Archer Western
General Contractor: Archer Western
Challenge Design-Build Project Delivery Addressed:
Florida Department of Transportation (FDOT) has extensive experience using the design-build delivery method and FDOT District 2 has helped champion many complex projects using a two-phased, best value selection process. Design-build was selected as the preferred project delivery method primarily as a way to fast-track project delivery and the nature of the work. FDOT prefers the engineer and contractor be teamed together on high-level water crossings, as it maximizes the opportunity to achieve a lower bid, reduces the potential for cost overruns and reduces the construction duration.
Summary:
The Sisters Creek Bridge is an excellent example of the application of the design-build delivery method to drive innovation, community and environmental enhancements and best value for stakeholders. In collaboration with FDOT, the Archer Western/RS&H team overcame numerous project challenges, such as poor soils, pedestrian safety concerns and a constrained project site to deliver solutions in ways that were never thought possible. As a result, the community expressed resounding support for this project.
The Elizabeth River Tunnels Project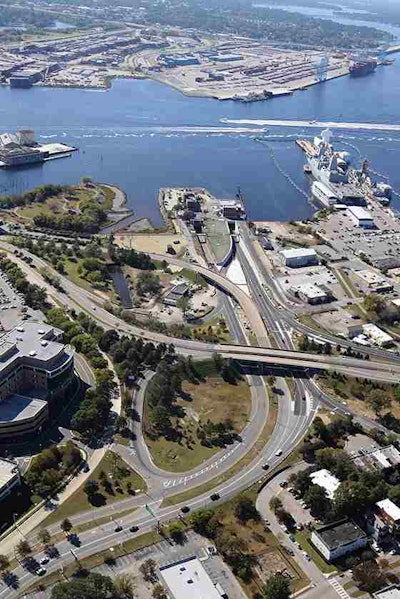 Cost: $1.49 billion
Design-Builder: SKW Constructors JV (Skanska USA Civil Southeast-Kiewit Construction-Weeks Marine)
General Contractor: SKW Constructors JV
Challenge Design-Build Project Delivery Addressed:
The design-build project delivery method added the cost and schedule certainty necessary for financing of the Elizabeth River Tunnels Project to be procured by Elizabeth River Crossings OpCo, thus allowing the project to proceed. It also allowed construction to commence prior to the completion of final plans, obtaining of all environmental permits and clearing the right-of-way necessary for project implementation. Using the design-build and P3 process allowed the project to be delivered to the public several years faster than a traditional bid-build process.
Summary:
The Elizabeth River Tunnels Project, a $2.1 billion, 6-year, public-private partnership design-build project in the Hampton Roads region of Virginia, has been completed one year ahead of schedule. It has reduced traffic congestion with two new additional lanes in the new Midtown Tunnel; provided route options by interconnecting the tunnels via the MLK Expressway; and provides safety improvements by installing lighting and fire protection enhancements in the existing Downtown Tunnels and the original Midtown Tunnel.