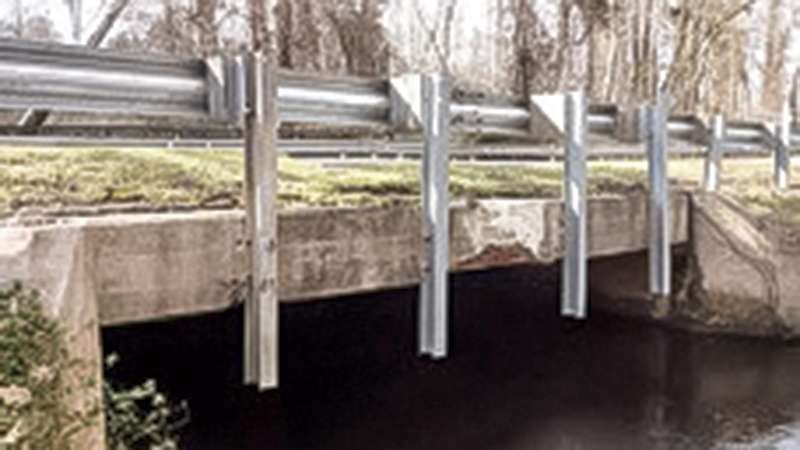 The East Washington Street at Jericho Canal bridge in Suffolk. Photo courtesy of City of Suffolk.
During a City Council work session on May 3, it was announced that Suffolk will receive $11.6 million in state money to replace or repair 10 bridges, the Suffolk News-Herald reports. The Virginia Department of Transportation's "State of Good Repair" program, which helped fund some large asphalt paving projects in Suffolk, was recently expanded to cover bridges.
"What it's designed toward is making sure we're able to maintain the infrastructure we have in place," L.J. Hansen, assistant public works director, told the news agency. "Maintenance is a very important part of what we do."
Most of the bridges are small and span small creeks or canals and swampland in rural areas. "They're not your Godwin Bridge or your Kings Highway Bridge that would run $90 million," Public Works Director Eric Nielsen said during Wednesday's work session, according to the news agency.
All 10 bridges have been designated as structurally deficient. "It means the bridge is approaching a critical point in its life where it either needs some significant maintenance or it needs to be replaced," Hansen told the news agency. "Oftentimes, it requires we put weight restrictions on them. That usually just means the bridge has a component or multiple components we're keeping an eye on. It means we maintain it and inspect it more frequently."
The city will have to put in $2.6 million of its own money in order to get the state money, and the bridges must be under design within two years, but five of them are already under design, Nielsen told the news agency. Some of the bridges will be completely replaced, some will be replaced with box culverts, and some will only have some major components replaced.
The following bridges will receive funding:
Carolina Road at Cypress Swamp;
East Washington Street at Jericho Canal;
Nansemond Parkway at Beamons Mill Pond;
Simons Drive at Cohoon Creek;
Mineral Springs Road at Jones Swamp;
Lake Cohoon Road at CSX crossing;
Longstreet Lane at Somerton Creek;
Southwestern Boulevard at Chapel Swamp;
Badger Road at Washington Ditch; and
Turlington Road at Kilby Creek Spillway.