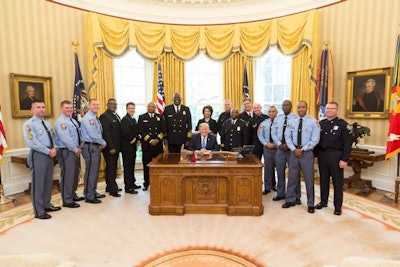 Members of the Georgia State Patrol, Atlanta Fire Rescue Department and Atlanta Police Department met with President Donald Trump and Transportation Secretary Elaine Chao at the White House last week in recognition of their efforts during the I-85 bridge collapse in Atlanta March 30.
"Mr. President, beside you and around you are true heroes of our country," Chao said at the meeting. "They demonstrate courage, steadfastness, commitment and fealty to their oaths to serve our communities in need."
The Federal Highway Administration, through approvals from President Trump and Secretary Chao, released $10 million in emergency relief funds "within one hour of Georgia Gov. Nathan Deal's request," officials report.
The president said the collapse is a reminder of the importance of infrastructure repair and maintenance to the country.
"On behalf of the entire nation, I salute you—you're really amazing people—and I honor your service," Trump said. "I pledge that you will have the support of our country—the police, the firefighters, first responders you will always have the support of President Trump."
"This is not only a great day for the city of Atlanta and Atlanta Fire Rescue Department, but it's a great day for all the public safety personnel throughout the country," says Joel Baker, fire chief of the city of Atlanta Fire Rescue Department.