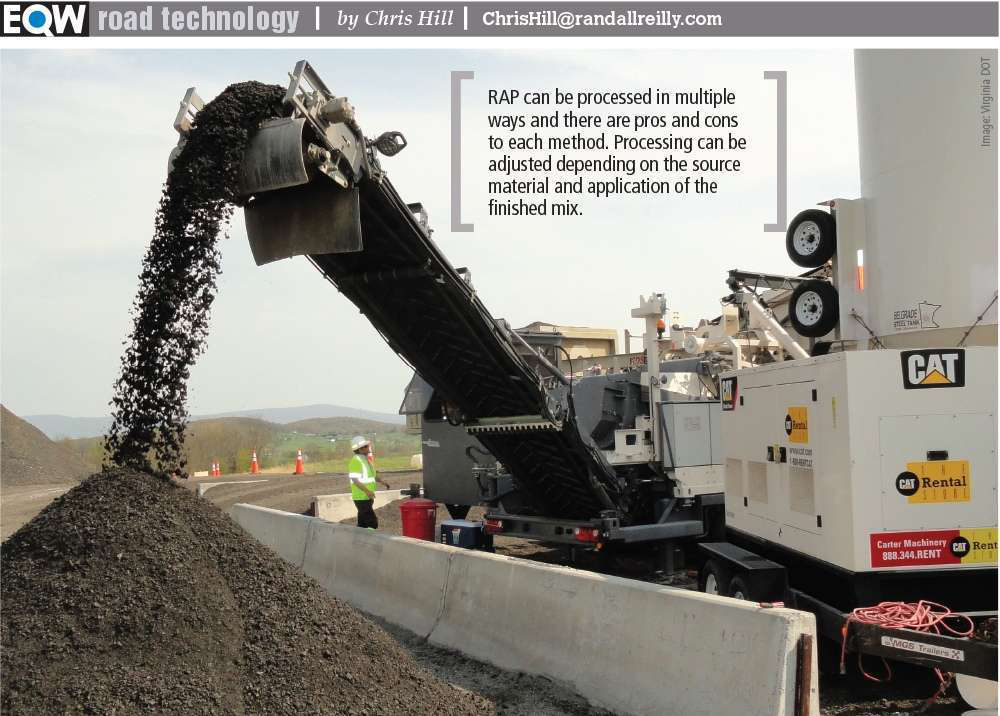 Asphalt is one of the most recycled materials in use today, a fact that was touted several times during the recent National Asphalt Pavement Association (NAPA) meeting in Orlando. In 2015, reclaimed asphalt pavement (RAP), represented 21.4 percent of the content of hot mix and warm mix asphalt used in the United States.
NAPA says roughly 99 percent of the material removed during road maintenance and repair is put back into use in new pavements. Just a few decades ago, this material was headed straight to the landfill.
It's clear the industry has taken a shine to RAP use, as evidenced by the winners of NAPA's 2016 Quality in Construction (QIC) Award presented at its meeting. Out of the 214 projects awarded, 64 used RAP in either surface or binder courses.
The benefits of using RAP are many, but boil down to cost savings: there are reduced costs from having to use less virgin binder, there is less new asphalt content required in the mix design, aggregate cost is down as more is coming from the RAP and there is a lower impact or shifting liquid asphalt prices.
In general terms, RAP is less expensive per ton (less energy is used in producing it compared to virgin asphalt), so the more it is used in a mix design, the lower the overall cost of the mix. Plus, multiple studies, many done by the National Center for Asphalt Technology (NCAT) at Auburn University, show RAP is proven to work as well as, if not better than, virgin mixes.
One of the 2016 NAPA QIC winners this year, Wiregrass Construction, used 20 percent RAP in the surface course of State Route 35 in DeKalb County, Alabama. Kirk Barker, area manager, Wiregrass Construction, Guntersville, Alabama, says the main benefits for a contractor to use RAP is lower costs and millings management.
"Using RAP reduces the virgin materials cost that we have, which transfers to savings to the owner of the project," he says. "Plus, we mill so much off of projects as contractors, finding places where this RAP to be disposed is difficult. So the benefit of using the RAP is limiting the wasting of the material. We're able to stockpile it and reuse it."
And in that stockpiling step, Barker adds, the top priority is to separate the various size of millings.
"If you mill 2 inches plus, that goes into one pile. If you mill 1- to 1 1/2 inches, that goes in another pile," he says.
Finally, Barker explains the biggest challenge in using RAP is drying it and maintaining the mix temperature that's needed.
"When you get it from the stockpile and you put it in the hopper that goes into the drum in the plant, it's difficult to keep it dry," he says. "If it's super wet, the mixing temperature drops, and then you have all kinds of problems. If you try to heat the RAP too much, it starts smoking because it's got AC on it."
Best management practices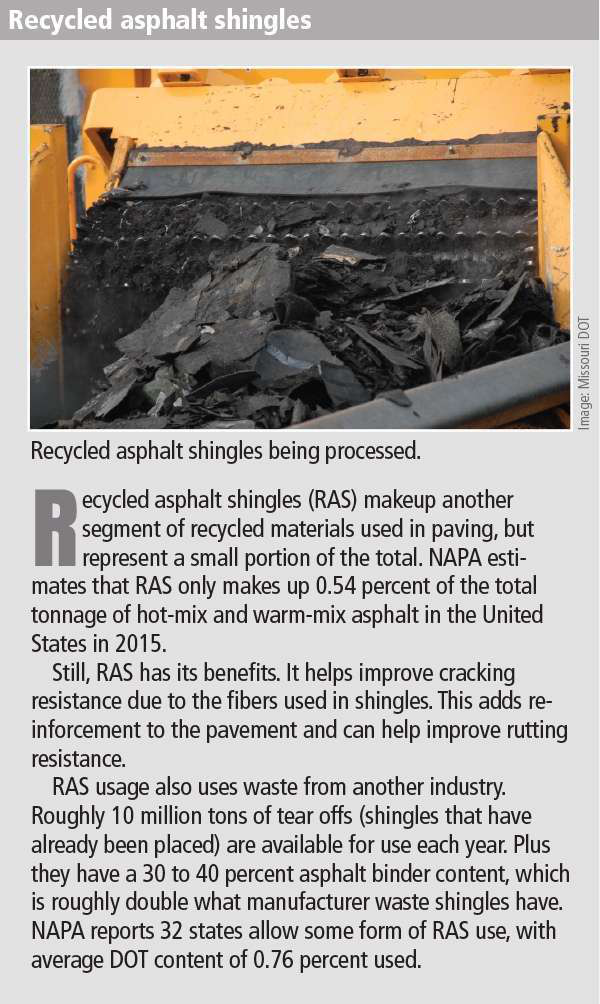 With all this increased usage comes the issue of managing RAP material. To facilitate this, NAPA last year published its "Best Practices for RAP and RAS Management" guide, prepared by NCAT's Director Randy West.
Below are synopses of each of four of the categories included in the guide: reclaiming, inventory and processing, sampling and testing, and production issues.
Reclaiming
The three primary sources for RAP include milling, full-depth demolition and waste mix.
For milling, the top two concerns are the milling process and depth. The depth is set by the project owner or agency and needs to be determined in part when reviewing the cross sections of cores in order to find weak layers, interfaces or cracks.
Contractors need to examine the milled material for contamination, which could be base material, soil or other debris that's not discovered until the milling process begins. However, contaminated material could still be used for shoulders or stored and filtered later.
In line with this, crews will need to look at the aggregate breakdown to see how fine the millings are. It's possible the millings may be broken down finer than needed.
During the milling process, contractors should look out for thin or weakly bonded layers. If these are found, then deeper milling will be necessary. In this inspection process, the surface texture also needs to be reviewed for uniformity, with a valley-to-peak ratio of about 1/2-inch being a typical target.
Milling to remove specific layers, which could be needed if the layers have different aggregate or with modified binders, can complicate the process. In these situations, contractors may need to use micro milling drums to achieve a more precise mill. These factors also may necessitate the contractor separate the millings as well.
In contrast to milling, RAP coming from pavement demolition, such as removing material for patching or cuts made for utilities, will be in large pieces that will be harder to process. With this material there is a higher chance of contamination, so contractors will need to separate this RAP from millings.
Another RAP source is plant waste, which can vary wildly in asphalt content, as the material can come from the beginning or end of a mix process, from overage from a job, mix exposed to heavy rain or even rejected mix. Plant waste also can have fewer fines content than RAP from roadways since it hasn't been milled. Contractors should also stockpile waste asphalt separately from other RAP.
Proper stockpile management is key in reducing contamination. With the various types of RAP being separated, it will be important to make sure truck drivers know where to dump the various materials and to keep truck beds clean before hauling. Site managers should also regularly inspect the stockpiles and remove extraneous debris.
Inventory and processing
Analyze inventory by having an inventory of RAP on hand and knowing the RAP generated per year. Each year, summarize the mixes by type and by customer that is produced. Identify the maximum RAP that can be used (this will depend on the agency). Identify how much RAP to have on hand relative to amount needed.
Here is an example, provided as a hypothetical case in the NAPA guide, which offers a usage-based formula for determining RAP inventory needs:
A contractor has 10,000 tons of RAP on hand, brings in 25,000 tons of RAP a year, and produces 200,000 tons of asphalt a year. Eighty percent of this is surface mix, with the rest non-surface mix. For the state DOT, the contractor produces roughly 120,000 tons, with the rest going to work performed for smaller agencies and for commercial jobs. He uses 15 percent RAP for the DOT mixes, but the state allows him to use up to 20 percent for surface mixes and 40 percent in base and leveling mixes.
---
Here's the formula to determine how much RAP is needed:
RAP available:
10,000 tons + 25,000 tons = 35,000 tons
Max RAP required:
120,000 tons x [(80 percent surface x 20 percent RAP) 
+ (20 percent non-surface mix x 40 percent RAP] = 
(80,000 tons x 20 percent RAP) = 44,800 tons of RAP
RAP used now: 120,000 tons x 15 percent RAP + 
80,000 tons x 20 percent RAP = 34,000 tons
---
Using this formula, the contractor has enough, as his RAP used now (34,000 tons) is less than the RAP available (35,000 tons).
When you do your inventory, it will be necessary to determine if you need to create separate stockpiles for unprocessed RAP. This will be determined by the materials in the RAP (such as types of aggregate, other recycle materials), as well as the space available onsite. One consideration is that some agencies will only allow RAP on a project that came from one of their previous projects. Most agencies, however, allow RAP from other projects as long as the final mix meets their specs.
Stockpiles may also need to remain static from when they were collected and tested, if an agency requires it. (This is called a captive stockpile.)
RAP should be added to stockpiles in layers without pushing the material over the edge of the stockpile. Then the material should be loaded through the layers to feed a crusher. Use a loader when you have uniform millings and an excavator when millings are not uniform, such as when they are from several projects.
RAP processing methods
The following details the pros and cons of the RAP processing options.
Method: Use of millings without further processing
Pro: Avoids further crushing of aggregate particles
in RAP and is the lowest cost processing option. The millings from large projects are likely have a
consistent gradation and asphalt content.
Con: This method requires multiple stockpiles at the plant and since millings from multiple projects are different, when a stockpile is used up, a new mix design has to be created to use this material with other RAP.
Method: Screening RAP before crushing
Pro: This limits the crushing of aggregate particles and will cut down on dust.
Con: Not many RAP crushing screening units are set up to pre-screen RAP.
Method: Crushing all RAP to a uniform size
Pro: This RAP can be used in multiple types of mixes, and it offers a uniformity of RAP coming from different sources.
Con: It adds dust content to the stockpiles, which can limit the quantity of RAP used in mix designs.
Method: Fractionating
Pro: Multiple sized RAP stockpiles offer more leeway in mix design development, with fine RAP fraction being ideal for thinlay mixes. Also, the heat transfer to fine
RAP can be more efficient during mixing.
Con: More space is needed for differing stockpiles, it's the most expensive process and fine fractionated RAP can clump due to high AC content, which can cause problems when it feeds through the plant.
Sampling & testing
Contractors need to sample one set of tests for every 1,000 tons of RAP, which is more often than virgin aggregates. Then at least 10 tests should be done on a RAP stockpile. This is usually per a DOT standard, but it can be lowered if the stockpile is proving to be consistent.
Sampling should be done while a stockpile is being created where the RAP will be added to the plant.
A sample method for permanent asphalt plants includes the following steps:
• Place a small load of the material on a clean surface, making sure to flatten the top of pile. The NAPA guide suggests using a front-end loader to do this.
• Collect samples from three different locations on the surface of this pile using a square-end shovel.
• Combine these samples, which will be divided later into test portions.
• Repeat to collect samples from different spots in the stockpile, making sure to not combine samples from different locations.
When testing, contractors should pull the date of the samples, for the RAP asphalt binder content, aggregate gradation, aggregate bulk specific gravity, consensus properties of the aggregate and properties of the RAP asphalt binder.
Production issues
In production, a major issue is the different temperature requirements for virgin aggregated mix compared to RAP. Virgin material requires much higher temperatures, so RAP is generally added later in the process, with "superheating" conducted on the virgin material so heat is transferred to the RAP at the mixing stage. The primary best practices here are to make sure the RAP is fed at a consistent rate and to pay attention to the RAP moisture content, which will impact the amount of virgin asphalt needing to be added.