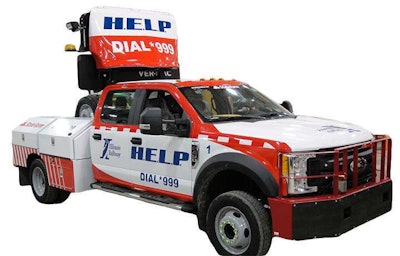 The Illinois Tollway has launched a beta form of a tracking program for users to locate Highway Emergency Lane Patrol (HELP) trucks.
"The Illinois Tollway always puts its customers' safety first and is continually looking for ways to enhance services and offer a helping hand to drivers in need," says Illinois Tollway Executive Director Greg Bedalov. "We remind drivers and their passengers to stay safe by remaining in their vehicles and calling *999 for assistance from our HELP trucks."
The agency wants users to test out the HELP Truck Tracker, available on the tollway's website at illinoistollway.com, throughout March and submit feedback. Trucks are marked on the website with arrows identifying direction of travel, with a popup text box reporting the nearest mile marker.
An updated version of the tracking system is expected in April.
The Tollway also has given the HELP trucks an updated look using red lettering on the white truck body to increase visibility to traffic and help indicate their presence to motorists.
The HELP program sends out 12 trucks to patrol the Tollway system in 12 counties from 5 a.m. to 8 p.m. Monday through Friday. The Tollway says the trucks have been able to provide roadside assistance within 15 minutes.
Last year, HELP trucks assisted more than 30,000 customers while patrolling more than 1.2 million miles.