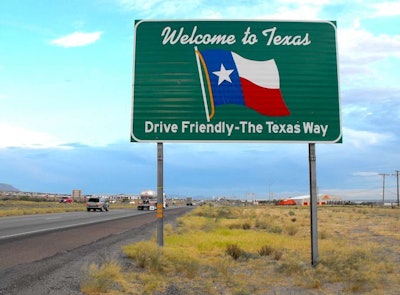 The Texas Transportation Commission is reviewing proposals to the Texas Department of Transportation's (TxDOT) Unified Transportation Program (UTP) that would dedicate funding for 1,210 miles of added capacity and improvements to the state's highway system.
The proposed updates would include $2.5 billion in funding to help relieve congestion through TxDOT's Texas Clear Lanes initiative.
"Mobility not only benefits individual drivers but also the Texas economy as goods and services move safely and efficiently across our state," says Texas Transportation Commissioner J. Bruce Bugg, Jr. "As our state's population grows, the 12,000 men and women of TxDOT will continue to collaborate with state and local leaders to find feasible solutions for funding specific projects that TxDOT will execute upon expeditiously to keep people and freight moving throughout our state."
The commission approved TxDOT's UTP last August. The program provides $70.19 billion over a 10-year period. Twenty percent of the program is dedicated to preventative maintenance and rehabilitation, followed by 18 percent for metro and urban area corridor projects and 16 percent for statewide rural connectivity corridor projects.
If the commission approves the update, which could happen in March, the $2.5 billion will go to 19 new projects designed to relieve congestion in the states major metropolitan areas to be completed over the next four years.
"We appreciate the support of Texans and we stand ready to deliver on these projects that will help ease their commutes," says TxDOT Deputy Executive Director Marc Williams. "Most of TxDOT's budget is dedicated to Texas roadway projects and we stand committed to putting those dollars to good use for our citizens."