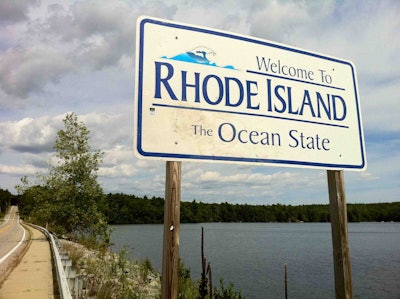 The Rhode Island Department of Transportation (RIDOT) is touting the accomplishments over the first year of the passage of the RhodeWorks transportation legislation.
RhodeWorks is a $4.7 billion investment program spanning 10 years aimed at improving the state's overall transportation system, but specifically to vastly update its bridges.
"When we took office, Rhode Island had the worst bridges of any state in America. So we got to work," Gov. Gina Raimondo says. "We came up with a plan that allows us to fix more than 150 structurally deficient bridges in Rhode Island, and make repairs to another 500 bridges to prevent them from becoming deficient. Today, the construction industry is back at work rebuilding Rhode Island."
RIDOT Director Peter Alviti Jr. says the agency is "laser focused on building the best DOT in the country."
"We now have a department capable of meeting those expectations and delivering the high quality transportation systems taxpayers are counting on us to deliver," he says.
Below are a few of the "key highlights" of RIDOTS accomplishments for the year:
Projects Awarded
"In the past year,RIDOT issued $174 million worth of construction contracts, $60 million more than it did in the previous year and $74 million more than 2014. RIDOT is on track this year to issue more than $200 in construction contracts. Since the passage of RhodeWorks, RIDOT has issued notices to proceed for 48 projects, which include repairs for 30 bridges. Construction Jobs – With the close of 2016, Rhode Island had added 800 construction jobs."
Accountability
"RIDOT adopted unprecedented accountability measures, including the installation of more than 200 accountability signs at all its projects, enabling the public to see project cost and schedule, as well as whether the project was on time and on budget. RIDOT also published a full year of quarterly report submissions, which can be found on its website at www.ridot.net/accountability. These measures make RIDOT more accountability to the public and to itself."
6-10 Interchange
"After sitting on the drawing board for more than 30 years, the replacement for the badly deteriorated and structurally deficient network of bridges at the Route 6-10 interchange in Providence is finally moving forward.RIDOT has initiated a request-for-qualifications (RFQ) process to solicit bids from construction companies to design and rebuild the badly deteriorated and structurally deficient network of bridges at the Route 6-10 interchange in Providence. Through RhodeWorks, $400 million is available to replace nine bridges in the interchange. Seven of these bridges are structurally deficient, many held up with temporary supports that were erected so long ago, they too are in need of repair. RIDOT anticipates construction to begin in the fall of 2017."
10-Year Plan
"The Federal Highway Administration and the Federal Transit Administration approved RIDOT's 10-year transportation plan – a first for Rhode Island, which is one of only four states in the country to adopt such a long-range plan. The plan will be renewed annually; the initial renewal is underway now."
Reduction of Consultant / Soft Costs
"RIDOT continues to see 'soft costs' reduced as a percentage of project expenditures. Soft costs include oversight and consulting costs, which have historically run higher than industry standards in Rhode Island. Total soft costs decreased a full percentage point from 38 percent to 37 percent in just the last six months. Consulting costs dropped from 15 percent to 11 percent."
Bridge Toll Facilities
"RIDOT executed a Memoranda of Understanding (MOU) with the Federal Highway Administration (FHWA), making it clear that the federal government agrees with Rhode Island's program to implement bridge tolls on large commercial vehicles or "tractor trailers" and that it meets the toll eligibility requirement in federal law. The Department has issued a request for proposals (RFP) for the Design-Build-Operate-Maintain (DBOM) contract for the truck-only tolling program. RIDOT expects to award a contract in spring 2017. Construction of the tolling facilities will take approximately a year and half to build, reaching completion by the end of 2018."
Reorganization
"RIDOT implemented the largest reorganization in its history, moving to a best-practice project management structure. While Project Management is a standard best practice in the private sector, less than half of the state DOTs in the country have adopted a Project Management approach. The top three tiers of management at RIDOT are being managed by a new team."
Rapid Bridge Construction
"Over the course of two long weekend closures last fall, RIDOT replaced the East Shore Expressway and McCormick Quarry Bridges in East Providence. These represent the culture of innovation and commitment to project delivery at RIDOT."
Task Order Design Contracting
"RIDOT is transitioning to the industry best practice of task order contracting for design and engineering support. This approach speeds the procurement of design contractors allowing RIDOT to deliver projects faster and more cost effectively. RIDOT has awarded 49 task order contracts, and to date has issued 18 task orders, a majority for bridge design work."
Route 6/10 Interchange and Interstate Route 95 North Bound Viaduct Project
"RIDOT applied for $59 million in federal FASTLANE funding to support the $226 million Route 6/10 and Interstate 95 Interchange Project. This proposed project not only includes the replacement of the Northbound I-95 Providence Viaduct, but also will include improvements to greatly reduce traffic congestion and significantly improve safety."
Expanding Maintenance
"In order to protect the investment being made through RhodeWorks funding,RIDOT is expanding its maintenance capability in terms of added personnel and new equipment. The department transferred 40 vacant administrative positions to maintenance to provide more field staff for addressing a wide range of maintenance and repair activities. The department created dedicated crews for drainage inspection and cleaning, for installing pavement markings, and for inspecting bridges. Additionally, the Department is in the midst of modernizing and expanding its fleet through a nearly $20 million investment."
Safety
"RIDOT is developing a 10-year comprehensive plan to completely eliminate annual fatalities associated with impaired driving. In the past year, the Department hosted the first Impaired Driving Summit at the Community College of Rhode Island's Knight Campus in Warwick, and launched a new initiative for unique and impactful safety messaging to motorists using its electronic highway message signs."
Potholes
"RIDOT continues to make use of new "pothole killer" direct injection technology. Pothole calls to the Department's Transportation Management Center and claims remain below prior year levels."
Stormwater
"RIDOT committed more than $110 million in its 10-year plan. The Department has met and exceeded its requirement under a Consent Decree with the Environmental Protection Agency. A statewide inventory of all 16,000 drainage structures is more than half complete, annual drainage inspections and cleanings are at a pace nearly three times that which is mandated, and stormwater control plans and contracts to improve drainage systems are underway with work expected to begin in spring 2018. This project was undertaken in connection with the settlement of an enforcement action, United States v. Rhode Island Department of Transportation, taken on behalf of the U.S. Environmental Protection Agency under the Clean Water Act."