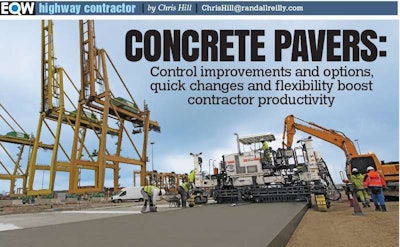 Changes in concrete pavers that benefit contractors have been led by two main factors: improvements in controls and the ability to make changes at a faster pace.
Options for controls have scaled down in size, but have grown in capabilities. Control panels are smaller and sleeker compared to just a few years ago, but new advancements in sensors can now allow operators to control multiple functions that used to require workers on the ground assisting the operator up top.
"Everything can be set up on the operator's platform," says Frank Hansel, senior service technician for Power Pavers. "You don't have to do it with tape measures, extensions or any of that any more. I can see what all my sensors are doing – they're all electronic, not hydraulic." Hansel describes the electronics as a "big deal" as they are much more sensitive.
During the 2017 World of Concrete show in Las Vegas, Hansel provided an overview of the control features of the Power Paver SF-1700.
"You can turn your elevation and steering off at any time," he says. "You can turn off your sensor if there is something in the way. The machine will freeze right there and you can get past the obstruction and bring the sensor back out and put it back online. It's all in the computers and the innovations that have brought this capability to use. It's just simpler for the operator and saves a crew time."
Hansel says when the SF-1700 is in pave mode all the sensors are live. "It used to be a big problem with the hydraulic sensors because you would run out of concrete or run short. Now you can shut just the sensors off. It goes to standby, which shuts all the sensors off, so the machine can't pivot and it can't go up and down. It freezes it and locks it in place. It also shuts off the propel, the vibrators and tamper bar. It kills everything."
When there is enough concrete loaded up, the operator can go from standby to pave and get back to paving. It starts at the same speed it was and at the same rpms.
With the display screen on the control panel, an operator can see all the factors the sensors are monitoring. "If my sensors go up too high it stops the machine, so there's no big bump. When you don't have a big bump or dip. The machine is smarter, so it does a better job."
Remote controls
Guntert & Zimmerman is moving toward providing more options for operators to control their pavers, particularly the S 400 and S 600, from positions contractors prefer to be stationed.
"We're starting to go remote control on our operations console," says Ben Hoover, Guntert & Zimmerman marketing manager. "That essentially makes it so the operator doesn't have to be locked on to the top of the machine."
Particularly when pouring concrete, it's beneficial to have unobstructed view of the pour, Hoover adds. "Some contractors like to go to one side at ground level and use the remote control belly pack. There they are able to operate the machine completely during the entire pour for more of a wide view, rather than being confined up in that small space."
Terex Bid-Well also is adding remote control options to its roller paver models. At the World of Concrete the company launched three remote control options designed to make setting adjustments to their 2450, 3600 and 4800 roller pavers from ground level while paving.
"While paving, it is common for the operator to make minor adjustments to machine settings," says Dean Johnson, Terex Bid-Well service manager. "Without our remote operation, he or she will either call down to a laborer on the ground to make the adjustment or will have to stop the paving operation to make the change. Our remote control units give the operator the flexibility to move away from the platform and have greater control over machine settings."
The system includes two tethered control boxes that can be attached in any position on the paver's frame. And operator can change paver speed, engine throttle, power crown adjustment and paving width. Control options include an entry-level keypad control, a local control featuring a touch-screen display or a radio remote control panel that allows a worker to carry along machine controls and operate the paver from the ground level from every position around the machine.
The initial display screens for the units include a login page so only operators with authorization can control the unit. The screen also displays a daily maintenance prestart-up checklist for the carriage, power unit, legs, travel bogies and controllers.
Operators can see a live status overview of critical machine operating data and have access to auxiliary screen settings after prestart-up. They can also access and adjust with the remote unit the frame width, crown points, leg elevation, machine travel and working lights. And technicians can track and repair any issues during operation with the units imbedded diagnostics screen.
Versatility
Width adjustments have plagued concrete paving operations for years, as it took a series of steps involving bolt and section removals, adjusting and then reassembling side units.
"Typically it would be about a two-day job at least," says Ron Guntert, president and CEO of Guntert & Zimmerman. "In 2009 we came up with a telescopic end section that allows the operator to hydraulically expand the ends. There is a hydraulic cylinder in the expansion tubes on the side that pushes them out and then you add spacers. They hang on hooks on the assembly on the front and back and a pin goes in the bottom. You have a three-piece system that an operator can handle. These surfaces are all machined so when this all comes back together everything is flat, the bottom and everything is flat and square. So a man or two can get this done in a manner of less than two hours."
"And we have some customers that do two, even three changes in a day, which in the past meant if you had to do more than one pour in a day you'd have to have another paver available."
Guntert says a contractor approached the company about solving his problem of switching between job types frequently, such as paving a parking lot one day and working a highway job the next.
"He said to use he didn't want to sacrifice the function of the side forms, but he wanted it to be telescopic. So we can now do this with 3 feet, or 1 meter. We also have another one that allows us you to do up to 4 feet telescopically, and we just did one for an Australian customer that did 7 feet or 2 meters, because they were constantly going between 8.1 meters and 10.1 meters."
Wirtgen's new SP 60i line, including the SP 61i, SP62i and SP 64i, is boosting concrete paving versatility with both inset and offset applications. The line is a combination of the company's SP 500 and the larger SP 90i series.
As with the SP 94i and SP92i pavers, the SP 60i line offers multiple slipform systems for inset paving. The SP 62i and the SP 64i can pave up to 25 feet wide at thickness up to 18 inches.
Where the versatility comes into play is the offset paving capabilities. The SP 60i series can accept trimmers and multiple conveyor belts or augers, making it an option for contractors needing to switch applications. The SP 61i, for example, can slipform pave medium to large profiles on either the left or right side of the machine, including roadway edging, concrete safety barriers, water gullies and paths up to 12 feet wide. This, combined with a higher lifting capacity from the columns, gives operators more flexibility in tight spots, such as a concrete safety barrier.
Enhancements for the operator include a walkway that for the first time extends across the entire width of the machine, and a standardized operating and control concept similar to the SP 90 series. This is made up of a central control system and four local control systems that are standard. Additional options include plug-and-play connection for remote controls that can be connected to each of the crawler tracks to accelerate slipform paving setup by positioning and zeroing the crawler tracks and swivel arms.
Wirtgen displayed the SP 64i, the largest in the new line, at the World of Concrete. It features four crawlers on swivel arms as well as the new hydraulic concept included on the entire line. This change gives the series the capability of adding the offset forms.