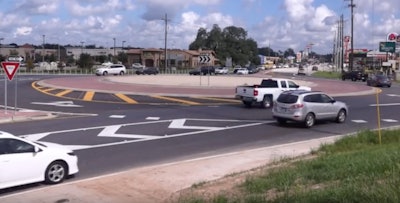 The Louisiana Department of Transportation and Development (LDOTD) is conducting a safety campaign highlighting the benefits of roundabouts.
Roundabouts are designed to improve safety and traffic flow and are one of many alternative intersections being implemented by departments of transportation across the country. Louisiana has built 30 roundabouts in the state and 100 more have been proposed LDOTD says.
"A well-designed roundabout improves safety, operations, looks and feel of an intersection. Most importantly, roundabouts save lives," LDOTD Secretary Shawn Wilson says. "With this campaign, we want to show motorists how to drive in a roundabout and how roundabouts benefit our communities and adjacent businesses by reducing severe crashes, improving traffic flow and ease access."
Wilson narrates the 30-second public service announcement airing on radio and television stations across the state.
LDOTD provides the following steps for safety navigating a roundabout:
Start to slow down.
Share the road.
Yield to traffic.
Proceed slowly to the right.
Follow directional signs.
Exit carefully.