The Arizona Department of Transportation's (ADOT) magazine, Arizona Highways, recently received 20 awards from the International Regional Magazine Association (IRMA) conference. The magazine celebrated its 90th anniversary last year.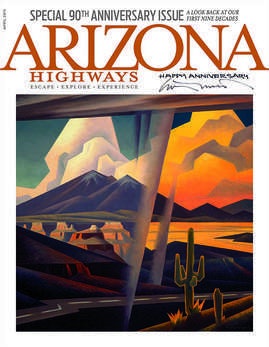 "The magazine's strong showing at the IRMA awards this year underscores the nearly 93 years of publishing excellence at Arizona Highways magazine," Publisher Win Holden said. "I was pleased that the magazine's creative team received recognition in every major category of publishing: writing, design, photography and illustration."
The magazine received five first-place Gold Awards, seven Silver Awards, four Bronze Awards and four honorable mentions. In 2014, it received 16 IRMA awards and in 2013 it garnered 11 awards.
This year's awards are listed below.
Gold Awards
Editor's Letter: Robert Stieve
Single Photo: Ben Coan, Let There Be Light, October
Magazine Photographer of the Year: David Muench, December
Graphic: Eric Hanson, On the Road Again, May
Special Focus: 90th Anniversary Issue, April
Silver Awards
Headline and Deck: Robert Stieve, She Knows Dam Well, March 2015
Essay: Craig Childs, The Long Deep Trails of Water, June
Magazine Writer of the Year: Annette McGivney
Portrait Photo: John Sherman, Table of Contents, August
Portrait Series: Scott Baxter, Their Souls Blend in a Soft Whisper, March
Illustration: Jon Foster, Of Prehistoric Proportions, May
Companion Website: arizonahighways.com
Bronze Awards
Public Issues: Annette McGivney, For Land's Sake, July
Profile: Kathy Montgomery, Sir David, December
Reader Service Article: Noah Austin, Robert Stieve and Kelly Vaughn Kramer, Weekend Getaways, January
Department: The Journal
Awards of Merit
Historical Feature: Kayla Frost, Of Prehistoric Proportions, May
Nature and Environment Feature: Annette McGivney, Ba'cho, August
Art Direction of a Single Story: Barbara Glynn Denney, Jeff Kida and Keith Whitney, The Blue, July
Cover: Barbara Glynn Denney, Salt River Canyon, November