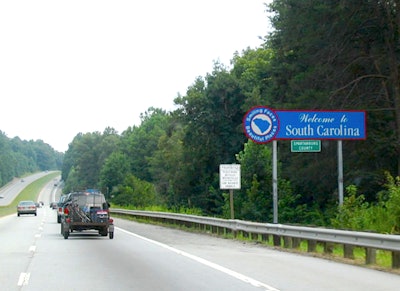 South Carolina Gov. Nikki Haley has signed into law S. 1258, an infrastructure funding bill that allows the state to borrow $2.2 billion over 10 years to help fund highway projects for the South Carolina Department of Transportation (SCDOT).
"SCDOT can now move forward with the planning and development of several projects and needed repairs that have been deferred for years due to a lack of funding," the agency said in response to the signing of the bill.
"While we wait for the new funding to begin to accumulate over the next year or so, we have already started the process of outlining a plan to deliver the complex interstate and bridge projects over the next decade," says SCDOT Secretary Christy A. Hall. "We will also diligently implement the administrative reforms and use this as an opportunity to increase our transparency to the public through revised reporting to the SCDOT Commission."
Funding in part will come from a series of fees, fines and taxes on various licensing programs and vehicles, to the tune of $200 million per year. Hall says the program will free up additional funds to be used on a variety of additional projects, including bridge repair.
"S. 1258 is just the beginning," Hall adds. "I am looking forward to the 2017 legislative session in order to continue the dialogue over the search for sustainable sources of revenue and to address the governance cloud that remains. The goal will be to bring us much closer to providing a highway system in good condition that will be able to adapt as South Carolina continues to grow and to ensure our citizens that the funds are spent wisely on statewide priorities."
The full text of the legislation is available here.