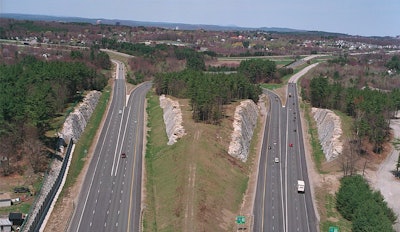 The Federal Highway Administration (FHWA) is providing a $200 million Transportation Infrastructure Finance and Innovation Act (TIFIA) loan to help finance additional lane construction to Interstate 93 in New Hampshire spanning from Salem to Manchester.
The interstate was built more than 50 years ago to handle up to 70,000 vehicles a day, but now experiences up to 100,000 vehicles per day in some sections, which is leading to heavy congestions. The New Hampshire Department of Transportation expects that figure to reach 140,000 by 2020.
Two additional lanes in each direction will be added to a 19.8-mile stretch from the I-93/I-293 interchange to the Massachusetts state line. Additional construction will include reworked interchanges, bridge enhancements, park-and-ride lots and bus facilities.
"The state will be better connected and commuters and freight shippers will have more reliable travel times," says FHWA Administrator Gregory Nadeau. "The new lanes along with other improvements will help address chronic congestion and the condition of aging infrastructure in the region."
The TIFIA program helps "fill market gaps and leverage substantial non-federal investments." The FHWA says that in the past each $1 of of federal funding has provided up to $14 in TIFIA credit assistance and has supported up to $40 in transportation infrastructure investment. So far this year, the U.S. Department of Transportation has financed $1.3 billion to support transportation infrastructure.