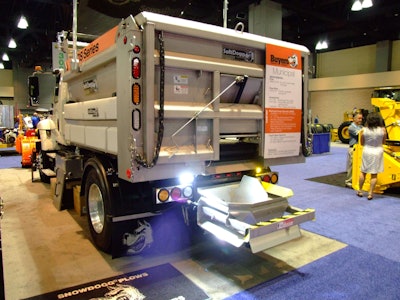 Buyers Products has introduced its new SaltDogg Municipal Dump Spreader (MDS) that combines a dump body with a four-season spreader to provide municipalities a product they can use year round. The product was on display at the American Public Works Association 2016 North American Snow Conference in Hartford, Connecticut.
The MDS is constructed from 304 stainless steel, with roll-formed sides and a cross-memberless design. It is available in lengths of 10, 12 and 14 feet and has 35-inch sides a 4-inch tailgate.
The four-season capability comes from a removable 7-gauge stainless steel conveyor cover plate, a removable spinner assembly and an adjustable flow gate. The latter can be interchanged with a coal chute.
"The new Municipal Dump Spreader is designed for superior durability and performance," says Dave Zelis, director of sales and marketing. "Along with four-season operation, it also offers customization for every application."
Buyers says the MDS limits protrusion into the body cavity and can have higher material capacity. It also features a three-stage, nitride, double-acting, front trunnion-mounted hoist and has an adjustable spread pattern ranging from 4 to 44 feet.