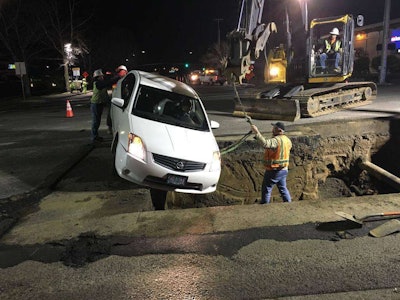 A drunk driver in Oregon barely avoided a potential disaster after he crashed into a construction site and found himself teetering on the edge of a pit with an active gas line below.
According to the Beaverton Police Department, an intoxicated man was driving his car in Beaverton Saturday night when he crashed into a construction zone he didn't notice—despite the flaggers and construction vehicles. The man's car ended up almost halfway into a very large hole that had an exposed, active gas line. If the driver had gone a foot further, the car would likely have fallen into the pit and atop the gas line.
Luckily, the in the process of the crash, the driver avoided hitting any construction workers or causing injuries to anyone on the site.
The man's car balanced on the edge of the pit until workers from NW Natural Gas helped remove the vehicle. The driver was then arrested and charged with driving under the influence.
"This is a prime example of why driving while impaired is so dangerous. This driver could have stuck a flagger, construction worker or ruptured the gas line causing many more injuries or deaths," the Beaverton Police Department said on its Facebook page.