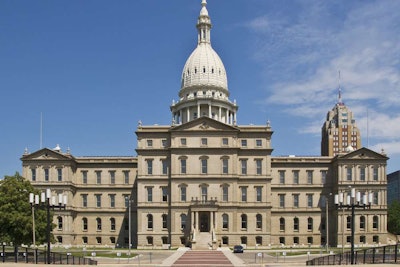 The Michigan House and Senate passed a package of seven bills aimed at providing $1.2 billion a year for bridge and road projects, split evenly between existing funds and new taxes.
The plan, dubbed the 600/600 or Plan R, has been sent to Gov. Rick Snyder for his signature.
The bills also provided for $200 million in "tax relief" via expanding the state's Homestead Property Tax credit and tying it to inflation adjustments each year.
New revenue will come from an increase in the gas tax of 7.3 cents per gallon, an increase in the diesel tax of 11.3 cents per gallon and a 20-percent rise in vehicle registration fees, both in 2017. Existing revenue sources, pulling money from the general fund, will be pulled starting in 2019.
"The state House and Senate . . . approved a fiscally responsible, comprehensive transportation plan that provides a long-term solution with new revenue that also provides long-term tax relief," Snyder said in a statement. "This is the largest investment in Michigan roads and bridges in more than half a century, making them safer for Michiganders long into the future."
"This plan also shows people around the country and around the world that Michiganders face our toughest problems and solve them," he added. "Preserving our roads and bridges has been a priority, and is another important step we've taken to make our state a better place to live and work."