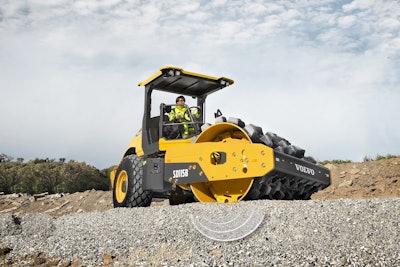 Volvo Construction Equipment has a new pair of soil compactors that give users access to new technology that makes work more efficient.
Volvo's new SD75B and SD115B are Tier 4 Final compliant and feature engines that provide ample power along with high torque at a lower RPM than previous models.
The SD75B and the SD115B both come standard with a new advanced drum control system to give users the ability to change the frequency and amplitude in different soil types and conditions. The machines' traction system adds to the improved maneuverability and allow them to work in most conditions—from inclines to slippery surfaces.
"These new models offer the perfect mid-range size and exceptional versatility to accomplish any compaction job," compaction product manager at Volvo Construction Equipment Mark Eckert said. "Whether for major highway projects or for general site preparation, the SD75B and SD115B adapt to changes in conditions, ensuring the contractor can use it for any job that arises  no matter the application or the terrain."
The machines' ROPS/FOPS-certified operator's station features a floor-to-ceiling window and positionable seat allowing for clear and custom views of the work area. A color monitor displays pertinent diagnostic and operation information.
The machines are protected by Volvo's Lifetime Frame and Structure Warranty, plus, Volvo has moved all electrical components to the operator's station to ensure a long life on the jobsite.