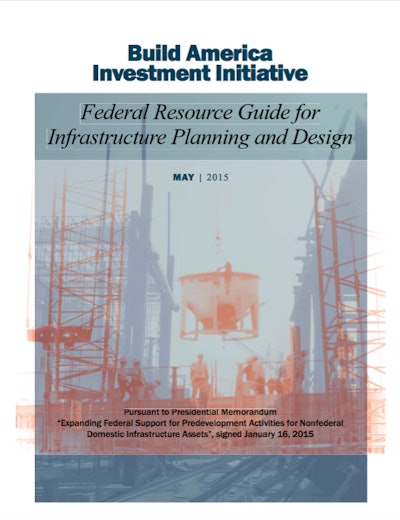 The White House has made available the "Federal Resource Guide for Infrastructure Planning and Design" as part of President Obama's Build America Investment Initiative launched last July.
The guide was released May 5, the same day the White House held a roundtable with infrastructure experts in partnership with the Rockefeller and Ford Foundations. The meeting's purpose was to discuss the economic impact of new projects such as roads and transit lines.
Available here, the guide covers "programs and opportunities" pulled from eight federal agencies, including the Department of Transportation, Environmental Protection Agency, Department of the Interior, Department of Agriculture and more.
The major focus is on efforts for pre-development of infrastructure projects, including the the following "Guiding Principles":
Base project objectives on regionally or locally established plans and policies.
Conduct and utilize comprehensive analysis to determine needs and approaches.
Seek broad community engagement and support.
Position communities to advance equity.
Foster the potential for multiple funding sources.
Consider multiple potential scenarios for achieving desired outcomes.
Coordinate with other infrastructure investments.
Employ adaptable and reliable technologies that look to the future.
Also included is case studies showing ways federal funds and planning assistance were used for infrastructure projects. These cover projects in six states ranging from highway to sanitation and water projects. But, the majority of the 29-page document is dedicated to grant and financial assistance programs as well as technical assistance programs.