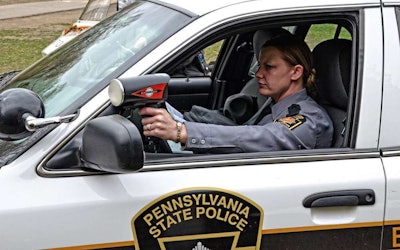 Troopers with the Pennsylvania State Police will take an embedded approach in protecting construction workers in highway work zones this summer.
In partnership with the Pennsylvania Turnpike Commission's (PTC) campaign "Operation Orange Squeeze," troopers will be working inside construction vehicles on highway jobsites running radar. They'll relay speeders to other other troopers waiting outside the work zones who will then pull over and issue tickets.
Troop T is the unit of charge of turnpike patrols in the state.
The PTC campagn warns motorists to "Slow down in work zones or pay the price." Operation Orange Squeeze launches in the Philadelphia market in May, and will continue through the state this summer.
Since 2012, two turnpike employees have been killed after being struck by vehicles entering work zones, and there were 150 crashes in work zones last year along. The campaign aims to bring attention to the dangers of speeding through the areas.
"Over the years, more than 30 Pennsylvania Turnpike employees have lost their lives while performing their duties; many of these tragedies happened in work zones," said PTC Chairman Sean Logan. "Our highway maintenance workers and their families are counting on us to help protect them, and their safety is our main concern."
"Drivers won't know where or when our troopers will be cracking down, so they should always obey the posted speed limit and travel with headlights on in work zones," said Lieutenant David L. Cain, acting Troop T commander. "Motorists who are cited in a work zone travelling 11 mph or more over the speed limit could face around $200 in fines plus a 15—day suspension of their license."
The campaign includes public outreach efforts and advertising and media relations, with a three-pronged focus, PTC said in statement: a direct appeal from actual maintenance workers to drivers; an emotional appeal reminding motorists of the devastation experienced by family members of workers who have been killed; and a selfish appeal that reminds drivers what they can lose if pulled over in a work zone.
"We have put together a campaign that the public will remember, and we hope it will make our customers think as they drive in our work areas," Logan said. "If we can prevent just one more tragedy, then our efforts will have been productive."
Motorists can visit the Operation Orange Squeeze website and sign a safe driving pledge, which the PTC hopes will help drivers "think more personally about what impact their driving choices" will have on themselves and others.