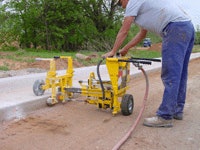 STILLWATER, Okla. — E-Z Drill offers a downsized version of its popular Model 210B On-Grade concrete drill, the Model 110B. The drill operates on the subgrade and fits in a 3-foot patch. A minimum of 50 cfm is required to run the totally pneumatic system, which can drill holes from 5/8 inch to 2 inches in diameter to a depth of 12 inches.
The Model 110B is designed to maintain high levels of productivity. E-Z Drill's patented roller bearing feed system eliminates carriage friction during drilling, allowing an operator to drill faster with a smaller drill motor. A mobile system helps the operator easily and quickly reposition the drill for increased productivity. Dual-purpose guide wheels slide horizontally along the concrete slab but also can be flipped down for simple transport.
Lifting handles on each side of the drill are positioned for proper leverage and less risk of injury, making the machine easier to operate while increasing production. A balanced lifting point for safe, easy loading of the 170-pound machine further enhances its mobility. Other safety and convenience features on the Model 110B include carriage locks, which hold the drill and bit in place when the air supply is off or disconnected, and automatically locking air hose couplers, which prevent the need to manually pin the connection.
Additional quality features designed to improve productivity and lessen downtime in all E-Z Drill models include quick-release bit guides for fast changes with any style of bit and replaceable carriages that can be interchanged quickly with basic tools. The optional vertical conversion kit allows the machine to drill vertically after a few minor adjustments.
Established in 1987 after creating a solution to slow, handheld rock drills, E-Z Drill now manufactures lines of slab rider drills, on-grade models and equipment-mounted drills, as well as vertical utility models and concrete drilling accessories, such as dust-collection systems and cure sprayer trailers. E-Z Drill also can custom design and build automatic drill systems for customers' specific jobs. For more information on E-Z Drill's complete line of concrete drilling and doweling equipment, contact E-Z Drill, P.O. Box 517, 4615 W. Lakeview, Stillwater, OK 74076, call 800-272-0121, fax 405-372-1429, e-mail sales@ezdrill.com or visit the website www.ezdrill.com.