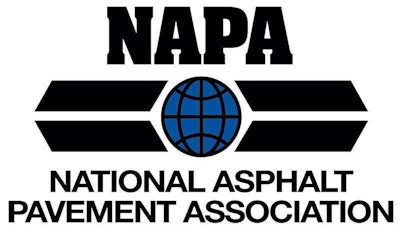 Thin Asphalt Overlays
Answer the Call
New research, as well as past performance, proves their value
Research from two separate field sites is proving the effectiveness of thin asphalt overlays under heavy traffic loadings. Meanwhile, thin asphalt overlays continue to succeed as a way to extend pavement lives across the country.
The Mississippi DOT has sponsored a test section at the NCAT Pavement Test Track consisting of a 4.75-mm top-size aggregate mix that was placed as a ¾-inch inlay. Operated by the National Center for Asphalt Technology, the test track uses heavy-duty trucks to apply accelerated traffic loads. Since being laid down in 2003, the MDOT section has withstood more than 24 million 18-kip equivalent single axle loadings (ESALs).
"It's holding up beautifully, and the rutting performance has been outstanding," says Buzz Powell, Ph.D., P.E., test track manager and an assistant director at NCAT. Rutting is only about 5 mm and there is no cracking. The International Roughness Index is around 60 inches per mile, which is good.
"It was set up as a 100-percent screenings mix, and the longevity of it has surprised everyone," says Powell. "It looks much the same today as it did when we placed it; it has not oxidized much at all."
MDOT decided to place the 4.75-mm mix to test its suitability for low volume road preservation. But all indications are that the mix will carry successfully 30 million ESALs by the end of September 2011, say Powell and Shane Buchanan, Ph.D., P.E., of Vulcan Materials.
The layer underlying the 4.75-mm mixture consists of 3.25 inches of a 12.5-mm nominal maximum aggregate size, slag/limestone, dense-graded Superpave mix. The aggregate blend grading in the 4.75-mm mix is 69.3-percent limestone dry screenings, 18.8-percent crushed gravel and 10.9-percent natural sand, along with 1-percent hydrated lime.
Success at MnRoad
At MnRoad, a field research facility set up on Interstate 94 in Minnesota, several sponsors convened to place a 2-inch asphalt overlay over a 5-inch concrete pavement. The group studying the entire composite pavement structure consists of the University of Minnesota, the University of California, the states of California and Washington, and the Federal Highway Administration (FHWA). A second group including the Minnesota DOT, the University of Minnesota, and NCAT are studying the performance of the asphalt layer.
"For aggregates we used two different taconites, both from the iron range in Minnesota," says Timothy R. Clyne, P.E., a MnRoad operations engineer. "We used manufactured sand and 7.3-percent asphalt binder.
"The asphalt mix is performing well, but the concrete is falling apart," says Clyne. "The overlay had reflective cracks in it within a year, but there's been no rutting to speak of. We used a 15-foot joint spacing in the concrete and just about every joint has reflected up through the asphalt.
"I think the concrete was a little too thin to support the interstate traffic," says Clyne. "You could just look at it and say the taconite aggregates are to blame, but I don't think that would be the correct conclusion." He said the road receives about 600,000 ESALs per year and the test section has been there more than a year, so the section has seen more than 1 million ESALs. "Part of our intent was to build thinner sections so that they fail quickly and we can learn from them," Clyne says.
Thin overlays: A valuable tool
Thin overlays grew in popularity following FHWA's 2002 push for preventive maintenance. States such as Ohio, Michigan, and North Carolina have placed thin overlays for years. As well, a number of other states, including Delaware, Georgia, Illinois, New Jersey, Tennessee and West Virginia, have all reported to NCAT that they have a fine mix designation. Other states have probably added 4.75-mm mixes since a nationwide survey was completed.
Thin asphalt overlays offer a number of benefits, especially as a technique to extend the life of a good pavement, says Dave Newcomb, vice president for research and technology at the National Asphalt Pavement Association. For example, thin overlays offer:
A long service life and low life cycle cost;
Improved ride quality;
An ability to quiet a noisy pavement;
An engineered approach to materials selection and design;
No loose stones after initial construction;
Little or no dust generated during construction; and
Ability to recycle, requires no curing time, and can be easily maintained.
High performance in New Jersey
New Jersey uses five mixes for thin overlays. They are named:
High Performance Thin Overlay (HPTO), with a 4.75- mm NMAS;
Ultra-Thin Friction Course (or Novachip, a patented product);
Stone-Matrix Asphalt (SMA), with a 9.5-mm NMAS;
Modified Open-Graded Friction Course (MOGFC); and
Asphalt Rubber Open-Graded Friction Course (AR-OGFC).
The HPTO, or High-Performance Thin Overlay, does not allow any reclaimed asphalt pavement (RAP), requires 100 percent crushed aggregate and PG 76-22 binder, says Robert J. Blight, project engineer, Materials, New Jersey DOT. The minimum binder content is 7 percent, but mix designs are usually closer to 8 percent.
The HPTO is designed for high-volume traffic roads in New Jersey – typically greater than 30 million ESALs. In-place allowable air voids in HPTO range from 2 to 7 percent. In addition to passing volumetric requirements, the mix is required to pass a rutting requirement of 8,000 cycles in the APA Rut Tester and not exceed a maximum of 4 mm (0.16 inch) of rutting.
Blight says HPTO was designed as a 1-inch thick wearing course, but has been used as a leveling course on a couple of projects. "Our first two pilot projects were constructed in 2008, both as wearing course preventive maintenance mixes," says Blight. The total quantity placed for three projects in 2008 reached 16,545 tons. Costs ranged between $125 and $145 per ton.
"In 2009 we placed approximately 10,000 tons of HPTO as a leveling course on one project," says Blight. "So far the sections look good and we are adding the HPTO to our standard specifications."
SMART overlays
Illinois has an asphalt overlay program called SMART – for Surface Maintenance at the Right Time. Overlay thicknesses range from 1.25 to 2 inches, and candidate pavements have to pass a set of criteria before being eligible for a SMART overlay, says Jeff South, bureau chief of statewide program planning for the Illinois DOT.
"Pavements have to be in fairly decent condition, and we don't put a SMART overlay on bare concrete," says South. "We only consider roads that get fewer than 500 trucks per day. Only minimal patching can be needed. These overlays can be used on all marked and unmarked roads but not on the interstate.
"We're only trying to get seven to 10 years more out of the pavement," says South. "In general, the program has been successful. If we miss on the criteria, we might get less time – or if the road is in downstate Illinois where the weather is not so harsh and traffic is less, we can get more than seven to 10 years."
Back in the '90s, Illinois averaged nearly 350 centerline miles of two-lane roads per year with SMART overlays. Last year, the state placed close to 250 centerline miles. "We are still hoping to place about 250 miles this year," says South. The cost? "Our planning estimate is about $200,000 per mile, so over 250 miles, that is approximately $50 million," South says.
Experimental overlays
At a 3.27-mile stretch of Illinois SR 72, an arterial in suburban Chicago, the Illinois DOT is running an experimental overlay program aimed at discovering new ways to apply an overlay without using the friction aggregate in the entire 1.5- or 2-inch asphalt surface lift. The stated goal of the study, conducted by IDOT and the University of Illinois, is: "To investigate and develop a new surface cross section that utilizes locally-available aggregates as much as possible, while being effective relative to friction, durability, noise and life-cycle costs."
Steel slag, a commonly-used friction aggregate in Illinois and Indiana, is in limited supply and the shipping costs can be high depending on the proximity of the project to the steel mills. "Currently, friction aggregate is included in the whole surface lift, but the friction aggregates are really only needed on the pavement surface," says Tom Zehr, HMA implementation engineer with the Illinois DOT's Central Bureau of Materials. "So, that prompted this research to better use our friction aggregates on the surfaces and use our more locally-available aggregates that are less expensive, have lower shipping costs, and are more plentiful, in the rest of the lifts and the structural layers."
Construction on the experimental project is scheduled to begin and end this year. Four experimental surface mixes will be tested. One will have quartzite as the friction aggregate, and a second will have steel slag and polyolefin/aramid reinforcing fibers in it for strength and rigidity. The third mix, says Zehr, will be a 4.75-mm stone-matrix asphalt (SMA) with terminal-blended ground tire rubber asphalt. The 4.75-mm SMA mix will have an N-design compactive effort of 80 gyrations and the other three mixes will have an N-design of 90.
"For the fourth one, we are going to do a sprinkle treatment mix," says Zehr. "We will use a 9.5-mm mix with local aggregates, but then we will sprinkle quartzite aggregates on top of that, directly behind the paver. The roller will follow and seat those particles, which have been pre-coated with about 1.5 percent of PG 64-22 binder. We just milled up a sprinkle treatment project in southern Illinois that has been in use for 25 or 30 years. Sprinkle treatment has also been done successfully in the past in Georgia, Louisiana, and Iowa. We are going to try it again, and I'm very optimistic that it will be a success."
Every overlay in the project will be a total of 2 inches thick. Each of the four experimental mixes will be constructed at both 1 inch and 1.25 inches thick and the 4.75-mm SMA will also be constructed at 0.75 inch thick. The remainder of each 2-inch overlay will be a 9.5-mm finegraded level binder course.
The researchers at the University of Illinois will run an extensive battery of both laboratory and field tests. The pavement will be tested for rutting, and for smoothness using the International Roughness Index. Laboratory tests at the University of Illinois will be conducted on both the field-produced mix and the same mixes produced in the lab. These tests will include the modified Lottman test, the dynamic modulus test, the Hamburg Wheel test, the fracture test, the Cantabro loss test, and friction tests. The component aggregate and asphalt materials have already been on hand at the University of Illinois for nearly a year and specimen preparation and testing is ongoing. The results of the lab tests on the specimens fabricated in the lab from the component materials will be compared to same tests on the plant-produced pavement materials. "We are hopeful that the results of this study will help us specify and economically build better overlays in the future," says Zehr.
Conclusion
In short, thin overlays offer a cost-effective way to extend the life of a good pavement. They have a low life-cycle cost and can improve rideability. Many states use thin asphalt overlays successfully. v
by Daniel C. Brown,Contributing Editor
In association with the National Asphalt Pavement Association
NCAT Pavement Test Track –
A Record of Proven Success
New research shows that asphalt pavement sections can be designed thinner.
The NCAT Pavement Test Track has racked up an impressive record of success since it was built in the summer of 2000. The 1.7-mile oval track in Lee County, Alabama, is managed by the National Center for Asphalt Technology (NCAT).
The test track – the largest asphalt pavement testing facility in the Western Hemisphere – is a pooled-fund project funded through sponsored test sections by highway agencies and industry businesses.
"We are proud to have worked with about 20 different sponsors since the track first started operating," says Randy West, director of NCAT. "The track has been vital to answering a range of key questions that highway agencies have asked over the past 10 years."
More efficient designs
Now, significant new research from the test track strongly suggests that certain assumptions which pavement designers have been using for years may be overly conservative, say David H. Timm, PhD, P.E., and Kendra P. Davis. "While everyone agrees that using proven designs is desirable, there are opportunities to save materials and costs and to better utilize materials," write Timm and Davis in a paper entitled "Recalibration of the Asphalt Layer Coefficient."
The Alabama Department of Transportation (ALDOT) sponsored research at the test track showing that the state's asphalt pavement designers can now use a structural coefficient equaling 0.54 rather than 0.44 – and that yields a pavement cross section that is 18.5-percent thinner. As a result, either a substantial cost saving is possible over the same miles of pavement, or more miles of road can be paved with the same resources.
ALDOT has recently implemented the recalibrated structural coefficient for resurfacing and new construction projects. The change was implemented simply by entering 0.54 into the AASHTO Design Guide software instead of 0.44. Timm and Davis caution that other states should apply this change after a careful review of the conditions of this study to be sure that conditions are similar.
How the track works
At the NCAT Pavement Test Track, a fleet of five Class 8 tractors pulling heavy triple trailers runs on the track over 750,000 miles per year. All non-steering axles of the trucks apply a load of 20,000 pounds, the federal legal bridge limit. The fleet, averaging a gross vehicle weight of 155,000 pounds, runs five days a week, 16 hours per day. A two-year trucking cycle on the track applies 10 million equivalent single axle loadings (ESALs) – the equivalent of about 20 years of normal traffic.
In 2000, a three-year research cycle at the test track cost approximately the same as one hour of paving in the United States. The annual savings from improvements in pavement design, however, are estimated at $1 billion. State DOTs invest in accelerated performance testing on the NCAT Test Track because they would have to wait 10 to 15 years on their own field projects to obtain less reliable information.
First cycle results
Results from the first research cycle, begun in 2000, were presented at the National Transportation Symposium in the fall of 2002. It was found that fine-graded mixes could perform just as well as coarse-graded mixes. It was also found that polymer-modified binders cut rutting rates in half, which meant that polymer-modified mixes could be designed with higher asphalt contents to optimize durability.
Performance results from the track were correlated with results from the laboratory, providing mix designers with some assurance of quality in their future work. Critics of the project pointed out that rutting overall was very low. However, statistically-significant relationships provided research sponsors with enough confidence to implement the findings.
The research generated by the 2000 project also produced useful tools for mix design and performance prediction. Rut depths were measured weekly on the surface of all 46 experimental sections. As pavement temperatures changed with the seasons, the relationship between the rate of rutting, temperature and age was identified.
It was found that truck axle passes could be grouped into temperature bands, with progressively greater weight factors applied to axle passes at higher temperatures. A model was developed to predict rutting performance as a function of temperature-banded ESALs, laboratory performance and age. This methodology was later used successfully to compare rutting performance from the NCAT Test Track to rutting performance under a Heavy Vehicle Simulator (HVS).
The follow-up cycles
In the second loading cycle of the track, West says NCAT and track sponsors continued to evaluate the rutting performance and durability of surface mixes in the majority of sections. Researchers also began building and analyzing structural test sections to validate the newly-developed AASHTO Mechanistic-Empirical Pavement Design Guide (M-E PDG) and other mechanistic-based design methods.
"This work has been key to validating engineering response models and calibrating transfer functions to better predict pavement performance," says West.
The third cycle continued to advance pavement design methods including proving the perpetual pavement design approach and establishing field fatigue endurance limits. Sponsors also built sections to define better critical limits for air voids, understand top-down cracking, explore dual-layer open-graded friction course surfaces, and evaluate asphalt mixes with 45 percent RAP.
"We are currently at about the halfway point of the fourth cycle," says West. "This cycle continues to build on the knowledge of previous cycles." Although many of the sections built in previous cycles continue to be trafficked and closely evaluated, researchers added a group of full-depth sections with high RAP contents, warm-mix asphalt, and other sections with uniquely modified mixtures.
New sections for the next cycle will be built in 2012. "We hope to continue to evaluate new warm-mix asphalt technologies, push the limits higher on recycling, and test pavement reinforcing systems and methods to mitigate reflection cracking," says West.
"And who knows what someone else may want to evaluate at the track?" West asks. "It is the best place on the planet to test new pavement ideas."
Since the test track opened, agencies have used it to prove what works and what doesn't. "When you build sections with different mix designs and/or different pavement cross sections and traffic them like we do, it is evident what works best," says West.
"We at NCAT are pleased to operate one of the premier asphalt research facilities in the world," West concludes. "We enjoy working with sponsors to address research needs that result in real improvements in materials, design and construction of longer-lasting pavements. We look forward to many more years of continued success in the effort to make asphalt the pavement material of choice."
For more information, you can go to www.pavetrack.com for a schematic of the NCAT Pavement Test Track. By clicking on a test section, you can obtain results of rutting, IRI in inches per mile, and a crack map. You can also access detailed construction data by section.v
by Daniel C. Brown, Contributing Editor
In association with the National Asphalt Pavement Association