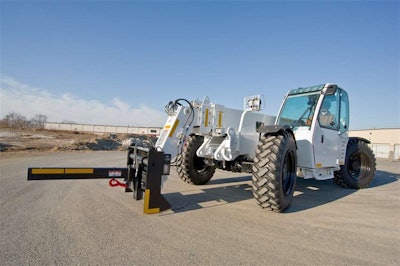 JLG Industries, Inc., an Oshkosh Corporation company, announced that it has received an order, to build 38 Engine Installation and Removal Vehicles (EIRV) for the U.S. Navy.
"Developing solutions, specific to the needs of the U.S. military, has become a core competency here at JLG," said Denny Buterbaugh, JLG Industries vice president – government products and programs. "Our JLG team takes great pride in creating products that meet the high standards of reliability and productivity required by the military, as well as the quality aftermarket programs necessary to support these important machines in the field."
The EIRV is based on the rugged design of the MMV, a telescopic material handler developed specifically for the material handling needs of the U.S. Marine Corp. It's modified boom is ideal for placing or removing engines on cargo aircraft like the P-3, C-2, E-2 and C-130. The EIRV has a load capacity of 6,000 pounds (2,721 kg) and can maneuver in the most challenging terrains.
Valued at approximately $6 million, this contract brings the total EIRV vehicles on order to 64 units, with a value totaling over $10 million dollars. The EIRV is built in McConnellsburg, Pa., and will be in use at naval facilities around the globe.