EDITOR'S PICK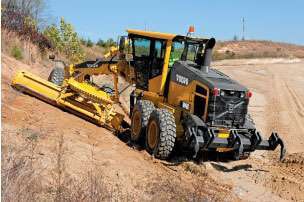 Volvo Construction Equipment
New Graders Built to Bear Down
It's difficult to argue when Volvo Construction Equipment says that "what really matters" for grader productivity is blade down pressure and blade pull force. Well, with emphasis on overall machine balance and distribution of the main grader components, the new G900B-Series motor graders have the highest blade down pressure in each weight class, the company claims. Using larger-displacement engines with cooled exhaust gas recirculation (EGR) technology to meet Tier 4 Interim emissions requirements, each of the G930B, G940B, G960B and all-wheel-drive G946B grader models can be driven by either the Volvo HTE840 transmission with eight forward and four reverse gears (standard) or the HTE1160 with 11 forward and six reverse gears. These transmissions boast three and eight power curves, respectively, matching power output to the traction available, and each uses the "shuttle shift" system to move between forward and reverse without the operator needing to stop the machine or use the inching pedal. The four Volvo graders range from 34,520 to 38,709 pounds in operating weight.
EDITOR'S PICK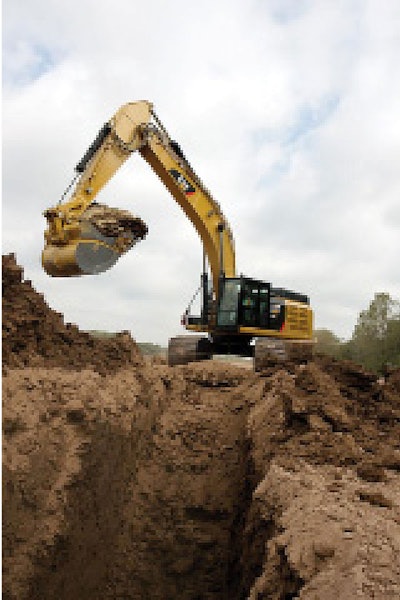 Caterpillar
Large Excavator E-ases Into Clean Emissions
Its arrival has been anticipated, having been first announced in late 2010, but the 349E's formal North American release this summer still opens a new chapter in the Caterpillar large-size excavator heritage. Replacing the 345D L, the 349E adopts updated nomenclature to more closely reflect the actual metric tonnage of the machine. Operating on either ultra-low-sulfur diesel fuel exclusively or a blend with 20-percent biodiesel, the 396-net-horsepower C13 engine uses Cat's Clean Emissions Module (CEM) to meet Tier 4 Interim emissions standards. In automatic mode, the CEM regeneration system allows the 349E to work as normal with no interruption to the work cycle, automatically sensing when to regenerate both during idle and when the machine is working. The manual model allows the operator to override the automatic setting if desired. Fuel-saving features introduced on the 349E include one-touch idle control, isochronous speed control, economy power mode and an engine idle setting that allows selection of how long the excavator can idle before it shuts down.
Advanced Drainage Systems
Free program to design inlet filter unit for stormwater
The step-by-step Flexstorm Product Configurator online software program from Advanced Drainage Systems (ADS) allows users to select the proper components and design an inlet filter unit for a stormwater drainage system to be configured based on drainage structure type and filtration needs. The program is available for free at www.inletfilters.com. The resources section contains product details, engineering drawings, specifications, educational videos plus operation and maintenance plans. Because components are configurable and adjustable, ADS units are designed to fit any drainage structure.
Trimble
Combines GNSS and optical surveying data
Version 2.50 of Trimble's Business Center software for surveying offices and a new Data Processing Service, a component of the Trimble Access Services, allow survey data managers to combine GNSS and optical surveying data as well as digital image data from Trimble surveying instruments into a single file. The new software version also enables the user to output desired data to a range of applications such as GIS, photogrammetry and CAD. Combined with Trimble Access Services, stakeholders can collaborate securely through the Trimble Connected Community portal.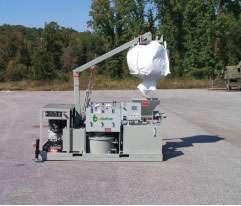 Blastcrete Equipment
High-rise block fill applications
Blastcrete Equipment's Mason Mate is designed primarily for high-rise block fill applications, as well as concrete repair and underground shotcrete for mining and tunneling applications. The D3522 unit features a hydraulic squeeze pump, a high-shear continuous mixer and an optional 1,000-pound-capacity bag lifter. According to the manufacturer, it easily fits in the back of a pickup truck or in a freight elevator, and can operate within an 8-foot ceiling. Furthermore, the compact design is said to allow easy maneuverability with a pallet jack and placement with a telescoping forklift or crane.
Bid2Win
Resource planning and dispatching solution
Logistics is one of three modules included in the new Integrated Construction Management Suite from Bid2Win. Originally a single field tracking and analysis solution, it has been expanded to include three modules: Field (field tracking and analysis), Logistics (resource planning and dispatching) and Maintenance (equipment maintenance and repair management), the latter to be released next year. Each module can be purchased as a stand-alone system, or together as an integrated suite.
Blue World Crete
Portland cement alternative
Scientists at Blue World Crete discovered Geo-Blue Crete II, a geo-polymer binding agent for cement that serves as a complete low-carbon footprint alternative to Portland cement. It looks like, acts like, works like Portland cement, and can be distributed in the same way with the same equipment but with less-expensive manufacturing costs, according to Blue World Crete. It is a one-part system that requires a simple paddle mixing of its powdered chemical formula at ambient temperatures. No heat is required in its manufacturing process. It is water-retardant, acid-retardant, discourages the oxidation of rebar, and has a near-zero coefficient of expansion.
International Road Dynamics
Programs without a computer
The TRS Plus traffic classifier from International Road Dynamics is a significant update of the TRS product line. TRS Plus vehicle classifiers feature alphanumeric keys, and the LCD display allows the user the option to program the unit without the use of a computer. TRS classifiers can be used for many traffic-data-collection applications. In the passive mode, they allow government agencies to collect data for congestion management, signal timing and planning. In the active mode, they meet a wide range of ITS requirements.
Chicago Pneumatic
Forward soil and asphalt plates
Six models of Chicago Pneumatic forward soil and asphalt plates are available, ranging from operating weights of 113 to 275 pounds and plate widths of 13 to 20 inches. Centrifugal force ranges from 1,888 to 4,800 pounds. The MV90 and MV100 are equipped with a large water tank and a stainless-steel sprinkler system designed for compacting asphalt quickly and without interruption. The machines are designed to be easy to turn and maneuver. Classified as light machines, the MV90 weighs 189 pounds and the MV100 weighs 205 pounds. Intended for more demanding jobs, the range of seven models of Chicago Pneumatic forward and reversible plates offer operating weights ranging from 344 to 1,111 pounds and centrifugal force of 7,875 to 13,488 pounds. The heaviest model, the MV480, features an electric start. Pneumatic's four models of tampers are designed to be well-balanced for ease of use. Operating weights range from 137 to 185 pounds and provide centrifugal force from 2,985 to 4,800 pounds.
DuPont
Three herbicide options for land managers
DuPont Perspective, Streamline and Viewpoint herbicides are based on aminocyclopyrachlor, a new proprietary active ingredient from the manufacturer. The herbicides provide long-lasting activity on a wide spectrum of difficult brush and broadleaf weeds in utility rights-of-way, roadsides, railroads, nature preserves, parks and other areas. Low-use rates and dry-blended formulations mean these new herbicides require less handling, tank-mixing, storage space and waste disposal. DuPont Perspective herbicide selectively controls broadleaf and invasive weeds, including thistles, leafy spurge and knapweeds, along roadsides and other sites, while preserving desirable grasses and natural habitats. It also helps control ALS- and glyphosate-tolerant species, including kochia, marestail and pigweeds. DuPont Streamline herbicide controls brush in industrial rights-of-way where desirable native and perennial grasses need to be maintained. It controls tough species, including boxelder, hackberry and mesquite. DuPont Viewpoint herbicide provides broad-spectrum brush control of tough species, including boxelder, hackberry, mesquite, oaks and sweetgum in utility and industrial rights-of-way.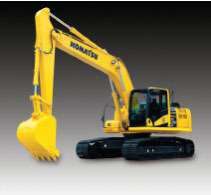 Komatsu America
Increases power, decreases fuel consumption
Komatsu America's PC290LC-10 hydraulic excavator is powered by a Komatsu SAA6D107E-2 engine and is EPA Tier 4 Interim and EU Stage 3B emissions certified. It has a flywheel horsepower of 196, and is built on a Tier 3 engine platform. "The environmentally-friendly" engine is said to increase power while decreasing fuel consumption. Weighing in at 68,000 pounds, the PC290LC-10 is equipped with the latest Komtrax technology. The technology sends machine operating information to a secure website using wireless technology. Data such as operating hours, location, cautions and maintenance alerts are relayed to the web application for analysis. The Komtrax fleet monitoring system monitors machine availability, reduces the risk of machine theft and allows for remote diagnosis by the distributor.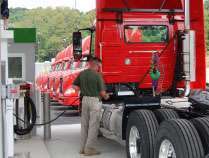 Volvo Trucks
Natural gas option for VNM daycab
Volvo Trucks' natural-gas-powered VNM daycab option is ideal for port drayage, pickup and delivery applications or any private fleet concerned about CO2 emissions.
A 9-liter, 320-horsepower, 1,000-lb.-ft. torque Cummins Westport ISL G engine powers the daycab using compressed or liquefied natural gas. The heavy-duty engine features maintenance-free aftertreatment, requiring only a three-way catalyst to meet EPA 2010 emissions standards.
Western Star
Predictable roll stiffness
Western Star Truck Sales has two new suspension options available for its various truck models and configurations. The first – a Neway 60,000-pound-capacity AD 260 Tandem air suspension system – is available for all Western Star truck models using Dana D60-190 axles, and contributes to the vehicles' road-holding and handling and positive axle alignment. The Neway system also provides predictable roll stiffness for high center of gravity loads – particularly important for front- and rear-discharge mixers. The second suspension – the 40,000-pound TufTrac All Wheel Drive (AWD) high-performance vocational suspension – is also available as an option for the Western Star 4800 with 40,000-pound axles. Specifically designed for on- and off-road high-articulation operations, the 40,000-pound TufTrac mounting is a lighter, more-affordable alternative than the 46,000-pound option.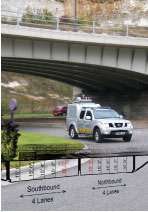 Allpoint Systems
Vehicle-based laser mapping has options
StreetMapper Bridges, a vehicle-based laser mapping system from Allpoint Systems, is now being offered with a range of tools for the automatic calculation of bridge heights and other measurements. Designed to simplify the task of processing the billions of individual laser-scanned measurements recorded by the mapping system, StreetMapper Bridges is ideally suited for road construction and maintenance projects and abnormal route calculations. The mapping system automates processing of 3D-laser-scanned measurements using complex statistical algorithms to identify road surfaces, isolate bridge data, identify lane markings and remove noise such as highway traffic. The application then extracts cross-sections from the data and calculates clearances and other user-defined measurements. This automation enables large-scale use of laser mapping by eliminating manual inefficiencies and reducing the chance for error.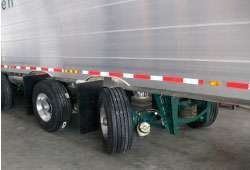 Titan Trailers
High-lift steering axle system
The ParaMax high-lift steering axle system, designed by Titan Trailers, is rated to 25,000 pounds with steer angles at 30 degrees. The suspension is designed to provide extreme travel and high-lift capabilities of up to 10.5 inches and 13.5 inches of the total axle travel capability for the most demanding on-road and off-road conditions. The ParaMax suspension is designed around high-travel parallel linkage with the king pin set to 90 degrees to the ground. The parallel mount configuration allows the suspension to lift the axle higher than other steer axles.