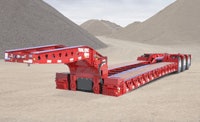 MITCHELL, SD – Trail King's Advantage Plus! Series Hydraulic Detachable Gooseneck (HDG) trailer features a new gooseneck design, as well as a long list of new standard equipment.
Of course, Trail King's detachable gooseneck system still includes self-lifting hydraulic cylinders, non-ground bearing design, and V-shaped alignment guide – features that have made Trail King HDG trailers the #1 selling detachables on the market for over 20 years. Thanks to these outstanding features, detaching, loading/unloading, and hook-up are all quick, easy, one-person operations.
But now, the Advantage Plus! Series HDG also features a new 5-position gooseneck door adjustment that allows for a full 8" range of king pin height settings, plus a notched setting control bar to take the guesswork out of setting the gooseneck doors in the desired position. What's more, the new "arched" design of the gooseneck provides ample truck frame clearance, even when set at the lowest king pin height.
Also new on the Advantage Plus! HDG are the heavy-duty pullout front outriggers. Not only do these outriggers provide extra strength at the pivot point where weight is concentrated during the loading/unloading process but, because they are built right into the frame, there's no need to lift them on and off, or store them elsewhere when not in use. What's more, spring-loaded stainless steel latches can be turned and locked open, leaving both hands free to pull out or push in the outriggers. In addition, close-set outriggers at mid-deck to prevent planks from tipping up as the load rolls over them are now also standard.
Best of all, many other features that were previously only available as add-on options are now standard equipment on the Advantage Plus! HDG, including:
– Covered knuckle trough in the rear deck – standard.
– Covered boom trough in the wheel area – standard.
– Third lift axle – standard.
– Adjustable ride height control, with controls conveniently located near the rear tail channel – standard.
– 10" I-beam cross members, with 4" stub cross members for 12" centers in the outer bays – standard.
– LED lights and a sealed "plug and play" electrical system – standard.
– Heavy-duty bent-style D-rings (7 pairs) – standard.
The Advantage Plus! Series Hydraulic Detachable Gooseneck trailer is available in 35-, 51-, and 55-ton capacities.
In addition to hydraulic detachables, Trail King manufactures a complete line of trailers, including tags, tilts, hydraulic tails and sliding axles; end dump, bottom dump, and side dump trailers; live bottom trailers; pneumatic dry bulk trailers; and hydraulic platform trailers and multi-axle trailers for the specialized hauling industry.