New Power Equipment, Materials, and Supplies for the Road Market
By Tina Grady Barbaccia

Introductions for the World of Concrete
Bobcat

Extendable arm reaches 30 more inches
Bobcat's new extendable arm option for its M-Series E32 and E35 compact excavators provides an additional 30 inches of reach, beyond the standard arm. The new option, according to Bobcat, is also the first extendable arm for compact excavators that allows the use of the hydraulic clamp and Hydraulic X-Change attachment mounting system. The arm can be hydraulically extended and retracted. When retracted, the arm delivers similar arm force (tear-out force) as a standard arm.
Doosan

Cabs conform to new ROPS standard
Doosan's new midrange hydraulic excavators are equipped with roll-over protective structure (ROPS)-certified cabs and conform to the new ROPS standard. Doosan excavator models covered under the ISO standard will range from the DX140LC to the DX480LC. The new ROPS-certified cabs will also be available on log loader models without cab risers; however, they will not be available on Doosan DX520LC and DX700LC models or log loader models with cab risers. DX480LC excavators that exceed 50 metric tons due to certain optional equipment or larger attachments are also excluded.
Trimble
Real-time vehicle location
Trimble's TrimFleet 6 suite provides real-time vehicle location and automatic status information, driver-to-dispatcher communications, integration with leading dispatch and Enterprise Resource Planning (ERP) solutions, as well as real-time alerts and exception reporting. The construction asset management suite is ideal for ready mix and aggregate hauling applications. Special features include mini maps, single sign-on, transient assets to give organizations the ability to share real-time asset visibility with other external TrimFleet customers and e-mail alerts.
Terex
Hydra Platforms: No CDL required
The new Terex Hydra Platforms HPT 11/38 truck-mounted under-bridge access platform from Terex Roadbuilding is the company's first cross model, matching the trailer platform with a truck chassis. Weighing less than 26,001 pounds, the new HPT 11/38 truck-mounted model does not require a CDL license to operate. The telescoping platform is 38 feet long and a maximum 42 inches wide. Its weight capacities of 1,000 pounds total and 500 pounds at the end of the platform are enough to securely accommodate multiple workers with tooling. Offering a maximum 16-foot lowering depth and 180-degree rotation, this under-bridge access platform is perfect for applications ranging from bridge inspection and restoration to stripping operations and utility work.
Terex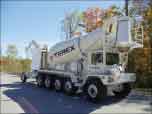 Market's first discharge mixer truck line
The Terex Roadbuilding front-discharge mixer truck line, which the company says is the first in the market, is powered by EPA 2010-compliant diesel engines and consists of three-, four-, five-, six- and seven-axle designs in both standard and bridge formula configurations. Currently, ready-mix producers can choose between 350-, 380- and 425-horsepower ratings of the Cummins ISX11.9 diesel engine for the 2010 EPA-compliant mixers. Terex plans to offer an MTU/Detroit Diesel DD13 2010 EPA engine option with power ratings of 350, 380 and 450 horsepower. Selective Catalytic Reduction (SCR) technology is used to treat post-diesel particulate filter (DPF) exhaust.
At the North American Snow Conference
SnowEx
Spreader tows with lawn, garden hitch
The SnowEx SP-7000 Tow Pro spreader features a 1.4-cubic-yard capacity and tows behind tractors and UTVs with a lawn and garden hitch, eliminating the need to mount a large spreader in the truck bed. The Tow Pro is said to be ideal for treating parking lots and garages, private roadways and a multitude of other off-highway uses. The spreader can handle all available spreading materials for ice management, such as 100-percent sand, 100-percent salt/ice melt or any combination in-between. The system includes a multi-angled hopper for enhancing material flow to the spreader's inverted-"V" baffle and patented auger, which then delivers material to a precise spot on the spinner. It also contains an integrated vibrator to reduce clumping and promote consistent feeding. With an 18-inch, stainless steel spinner, the unit is capable of spreading material up to 30 feet wide. For maximum control of the spread pattern, the spinner can be tilted between zero and 15 degrees downward, and the fins can also be adjusted.
SnowEx

Water-resistant, noncorrosive salt storage
The SB-1000 salt box from SnowEx is constructed from water-resistant, noncorrosive polyethylene, has a storage capacity of 10 cubic feet and is designed to protect a wide variety of materials from weather elements. Although the most common use is for storing salt, sand and other spreading materials for ice management, the salt box can also be used for holding fertilizer, tools and anything else that requires a weather-protected enclosure.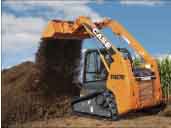 Engineered for digging, prying and pushing
The Alpha Series line of compact track loaders from Case delivers 74 horsepower in the TR270 and 90 horsepower in both the TR320 and TV380. Rated operating capacities range from 2,700 to 4,200 pounds with a counterweight and a hinge-pin height, which positions the bucket higher to load trucks quickly and easily. Featuring a dozer-style undercarriage, the track loaders can hold fast on steep slopes and take command of muddy or sandy terrain. Included in the series are two radial-lift models, the TR270 and TR320, and a vertical-lift model, the TV380. The radial lift machines (designated with an R in the model name), are engineered for digging, prying and pushing, while the vertical lift models (designated with a V), are noted for excelling in lift-and-carry applications.
A sign for speed
The Driver Feedback Sign from 3M advises drivers of their speed and encourages speed limit compliance. Built-in radar speed detection combined with an attention-grabbing display specifically designed for use on higher speed roadways produces a traffic calming tool that helps improve road safety. The sign is 48 by 60 inches with a 22-inch speed display and detects vehicles from as far away as 1,500 feet. It alerts motorists to reduce speeds in high-risk areas. The sign includes both amber and red numerals, along with white strobe LED lights, for a highly visible display that gains the attention of oncoming drivers.
Anti-rotation claws keep drums stable
The Lane Changer traffic drum from Work Area Protection has 5-inch-wide anti-rotation claws for use with a tire ring to keep the drums stable and facing traffic to reduce the need for repositioning. The drum is also designed to minimize stacking height and maximize load quantities. The Lane Changer traffic drum meets MUTCD, NCHRP 350, and sheeting configuration requirements for all state specifications, and has been approved in most states. The built-in, 10-inch-wide, anti-roll bottom allows the drum to resist rolling after an impact. The two-piece breakaway feature allows the drum a controlled separation upon impact, while letting the user drag the drum into position without separation. A ribbed bottom lip provides easy base attachment for rubber bases. Recessed reflective tiers provide long-lasting protection of sheeting, and the built-in sheeting edge protector guards against wear during drum stacking and transportation.
'New generation' loaders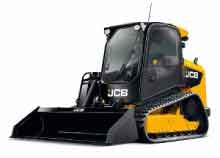 JCB has introduced seven compact loaders — four wheeled and three tracked — in a range that will eventually grow to 18 models. All seven machines are vertical lift, which allows for increased capacity and more reach at maximum lift height. The models now available — the 260, 280, 300 and 330 wheeled skid steers and 260T, 300T, 320T compact track loaders — are large-platform machines with rated operating capacities of 2,600 pounds and above. With the introduction of the new-generation machines, JCB will be able to offer a complete range of wheeled and tracked machines, both radial and vertical lift, ranging from 1,300 to 3,500 pounds.
Corrosion-resistant ice management
SnowEx, a division of TrynEx International, introduces its SD-95 drop spreader for ice management in confined areas. The spreader delivers a consistent flow of material directly to the ground, which is said to reduce waste and prevent the material from flinging into unwanted locations. The SD-95 includes a corrosion-resistant polyethylene hopper, which has a 160-pound capacity. Designed to handle bagged rock salt and pelletized material, the unit spreads in a 28-inch-wide path. The spreader also features 13-inch-diameter pneumatic tires and an adjustment lever on the handle for changing the material flow quickly and accurately.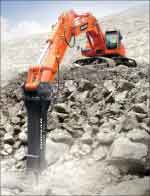 Nitrogen gas-assisted operation
The DXB170H hydraulic breaker by Doosan features nitrogen gas-assisted operation for improved efficiency in demanding demolition and rock-breaking applications. The 3,572-pound DXB170H delivers up to 600 blows per minute and is designed for use with excavators in the popular 18- to 28-metric-ton weight range. Rated in the 5,000-foot-pound impact energy class, the DXB170H requires a hydraulic flow rate of between 26.5 and 39.5 gallons per minute. The DXB170H breaker comes standard with a bracket cap, auxiliary hydraulic hoses, automatic greaser, two moil points, toolbox, nitrogen gas inflating kit and checking device.
Attachments increases loader utility
Case Construction Equipment's family of hydraulic angle broom attachments have been designed to increase the utility of its wheel loaders. They range in width from 96 to 120 inches, enabling the wheel loaders to sweep streets and parking lots, clean up jobsites and remove snow from jobsites. Angle broom models are available for Case 521D and E, 621D and E, 721D and E, and 821E wheel loaders. The brooms feature durable poly-wire brushes, broom heads that adjust 30 degrees left or right and an integrated nozzle for applications requiring water for dust control. The Case angle brooms attach to the Case-New Holland (CNH) Quick Coupler (JRB-compatible) for wheel loaders. Quick-change hydraulic fittings enable the operator to attach and detach the broom without disrupting hydraulic lines. Dual hydraulic motors power the broom attachment, driven by the loader's optional third-function auxiliary hydraulic control. A rugged steel frame houses the broom. Broom models are available with either solid or pneumatic tires.
Pallet forks for skid steers
Case's pallet forks are specially designed for use with the company's skid steers and compact track loaders. The pallet fork assemblies are available with either 48- or 42-inch tines in a choice of heavy duty, rated to 5,500 pounds, or standard, rated to 4,000 pounds. The rugged frame's mounting angle helps to assure proper forward tilt for loading and excellent rollback for transporting loads. The design offers ample room between the frame and the cab, providing easy access to and from the cab.