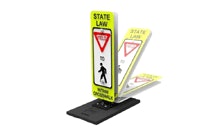 The NEW Ped-in-a-Bag™ pedestrian sign was designed for use by school crossing guards who require a pedestrian safety device that is easily transported and deployed.
Just like with Impact Recovery Systems' other pedestrian safety signs, the Ped-in-a-Bag supplies enhanced conspicuity at crosswalks- in accordance with the MUTCD, in order to alert motorists to local laws concerning yielding to, or stopping for pedestrians in crosswalks. The effectiveness of this unit has been repeatedly supported by independent testing to demonstrate distinct changes in motorist behavior and accident incidence following installation.
This sign's lightweight design (26 lbs- sign and base), and quick release system-that allows the sign to be removed from the base in less than five seconds, makes this unit Ideal for use in school zones, in order to provide additional protection of the crosswalks frequented by children. This sign is easily transported via the included carrying bag. Ped-in-a-Bag™ also comes standard with Impact Recovery Systems' patented, anti-twist reactive spring system that is designed to return the unit to its original position after impact.
For more information: https://www.impactrecovery.com/, 800.736.4477, info@impactrecovery.com