Safety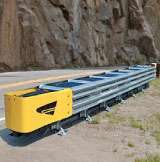 QuadGuard M10 crash cushion is MASH compliant
Trinity Highway Products/Energy Absorption Systems of Dallas has introduced the QuadGuard M10, calling it the industry's first crash cushion accepted for use on the National Highway System under the provisions of the Manual for Accessing Safety Hardware (MASH) Test Level 3 (TL-3) standards. The QG M10 is built on the original QG platform featuring the monorail and Quad-Beam fender panels common to all previous QuadGuard versions. Only three modifications are necessary to transform the original QG to a QGM10 – an engineered steel nose, MASH-compliant cartridges and monorail shims. This combination of old and new allows for a simple and cost effective conversion from NCHRP 350 TL-3 compliance to MASH TL-3 compliance.
Trinity says that previously, when new crash test standards were introduced, agencies were required to completely overhaul their existing inventories. Existing QuadGuards, both installed and un-installed, are easily transitioned to the next generation of crash standards. www.energyabsorption.com; www.highwayguardrail.com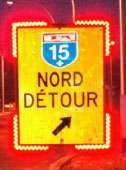 Versilis solar-powered, remote signage
From Versilis comes SwiftSign dynamic signage, a safe, fast and easy way to activate traffic signage or message boards from a distance. The system is comprised of a pivoting sign, a solar panel and a control box. Flashing lights can be added to the traffic sign to increase its nighttime visibility and to catch drivers' attention under specific circumstances, such as emergency procedures. The dynamic signage is completely independent of wiring for ease of installation or relocation. It can be activated with an RF unit, cellular phone or web-based application.
Applications include:
– Signage for reversible lane
– Signage for repetitive lane-closure operations
– Signage for emergency operations
– Traffic signage that needs activation at hard-to-reach or dangerous sites
– Variable dynamic road messages (possibility of two or three different messages)

Portable Highway Advisory Radio
VoiceStar from American Signal Company is a ready-to-roll portable advisory radio station, available with or without a changeable message sign. Stations can be integrated into a system of several units to instantly notify the public at highway construction zones, traffic incidents or emergencies. Using solar power and wireless communication, operators may program broadcast messages and changeable signs remotely.
VoiceStar is a "quick startup," providing its message in fewer than 5 minutes. The operator simply swings up the antenna, lays out the portable groundplane and flips on the power. Batteries are immediately online. If AC power is available, the operator can plug in and charge the system's batteries while operating. The solar array is aligned flat to allow positioning of the trailer in any roadway orientation. www.amsig.com
X-Last Bollards: Durable and Flexible
Pexco says its "tough as nails" bollards will not bend, break or dent while they ensure vehicles do not enter prohibited zones. With their extreme flexibility, they are virtually impossible to break, says the company, and even if they are hit and knocked down, they return to their full, original upright form. X-Last bollards are highly rigid, strong and will never rust, according to the company. When emergency vehicles need to gain access, they can pass over them easily. There is no need to remove the bollards or replace them afterward. The flexibility and "memory" of the X-Last material returns the bollard to a full upright position. www.pexco.com/Pages/PexcoTrafficBollards.aspx