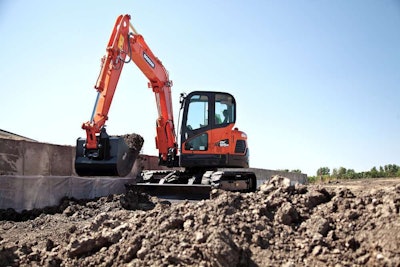 Doosan has launched its Tier 4 compliant DX63-3 and DX85R-3 excavators, our sister site, Equipment World, reports.
The 6.3-metric-ton DX63-3 compact excavator features a conventional tail swing and has a 13-foot, 6-inch dig depth; an operating weight of 13,779 pounds; an 11.6-inch tail swing overhang; 5,767 foot-pounds of arm force; and 9,731 foot-pounds of bucket force.
The 8.5-metric-ton DX85R-3 features a reduced tail swing and has an operating weight of 18,960 pounds; an overhang width of 91 inches; a tail overhang of 5.8 inches; 14,509 foot-pounds of breakout force; 8,069 foot-pounds of arm force; and a 15-foot 6-inch dig depth.
A 59.4-horsepower Tier 4 diesel engine powers each of the excavators.
Both machines include a new blade float feature, which allows operators to use a single machine to both excavate and fill material.
The DX63-3 has a 16.1-inch blade height — a 21-percent increase over its predecessor, the DX60R.
The excavators both include a standard Auto-Shift travel that automatically shifts the excavator out of high or low range; fingertip boom swing functions for positioning the work group for offset digging; selectable auxiliary hydraulic functions for more precise attachment performance; and a multi-language color panel that displays fuel level, coolant temperature, engine rpm and more.
For easy maintenance, the machines have extended grease intervals and new guards that protect the boom cylinder while the excavator is digging. The undercarriage has four tie-down points to simplify machine loading for transport.