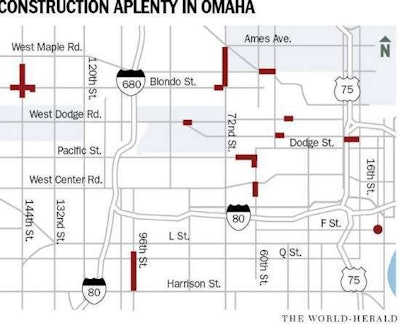 We are inching closer to the weekend, so here's some road construction humor.
As I traveled to Omaha, Nebraska, last week to meet with some manufacturers, one thing was clear: Road-construction season was in full gear. From widening roads to repairing older ones, I saw crews staying busy throughout the city – which spends $30 to $35 million a year on street improvements and maintenance, according to The Omaha World Herald. And the roads budget is supposed to exceed past years in 2013.
Like with any major road changes or construction areas, drivers are bound to notice and complain about delays. Here are some funny comments from Brad Dickson, The Omaha World Herald humor columnist, on his take about the road projects:
Omaha crews are preparing to ramp up the number of roadwork projects. I have a better idea: Finish a couple of the seven million projects currently underway, and then begin some new ones.

Omaha crews are ramping up the number of road projects. Starting next year, the new Omaha license plates will read "Home of the Detour."

This weekend, the Nebraska (Hot-Air) Balloon and Wine Festival comes to Omaha. There's a good combination.

Actually, once the roadwork in Omaha ramps up, I plan to be commuting via hot-air balloon.
See, roadwork can be fun – even for upset drivers.