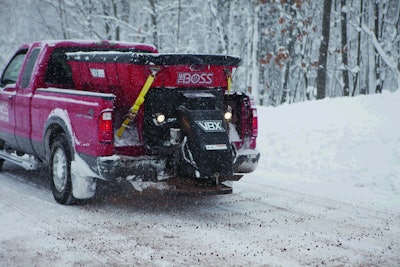 The Boss Snowplow has introduced the VBX Spreader, the company's first V-Box Spreader featuring an 8-foot poly hopper with a 2-cubic-yard capacity.
Pintle chain and auger feed options are offered for this machine, and both options are designed to be heavy-duty. The pintle chain option features a chain cleaning brush to remove excess material, a proprietary chain-link shield to prevent excess material from contacting the chain and a full-length slide-out tray to capture falling debris and reduce corrosion.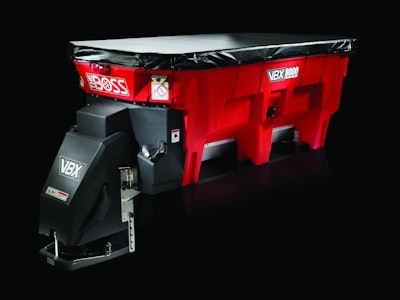 A completely sealed, 1/2-horsepower stainless steel motor powers the VBX, which has a gear box outfitted with planetary and worm gears to maximize durability.
The machine uses the Boss V-box control system with dual motor control and an intuitive LCD cab control system. A rear-mounted dump switch allows the operator to quickly dump remaining material, while the quickly-removable spinner assembly simplifies service and maintenance.
The machine comes standard with auxiliary lighting, center high mounted stop lamps, a tarp with integral tie downs and a top screen.
For more information, visit bossplow.com/hopper-spreaders.