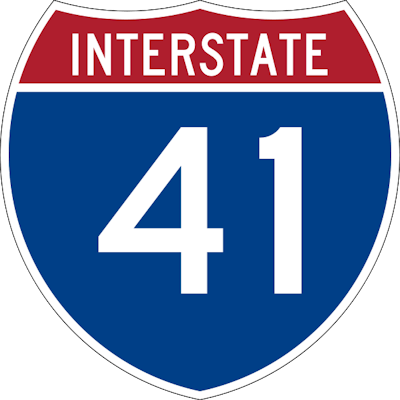 A portion of an iconic highway that stretches from Miami to the northernmost tip of Upper Michigan will become an Interstate in 2015. Highway 41, one of Wisconsin's main north-south highways, connecting Milwaukee to the Fox River Valley and Green Bay will officially be designated as an Interstate in September 2015, The Chippewa Herald reports.
The stretch of Highway 41 from the Illinois state line to Green Bay will become Interstate 41. It will fit between I-39 to the west and I-43 to the east. The numbers for the north-south Interstates are odd-numbered and go up from west to east.
The Wisconsin Department of Transportation has plans to convert and/or replace 3,500 highway signs next fall in the 175-mile stretch of U.S. 41 that will become I-41.
It could cost as much as $12 million to replace all of the signs. However, that's a small fraction of the $1.5 billion project's cost.
The conversion is expected to boost economic growth by increasing the opportunities for national operations.
"It puts us on a different stature as it relates to communities across the country," John Casper, president and CEO of the Oshkosh Chamber of Commerce told The (Fond du Lac) Reporter. "A lot of businesses — industrial, commercial, retail — want to be on Interstates. When firms are identifying places to locate (and) expand … 'Interstate' communicates a certain standard."
The federal government identified the stretch from Milwaukee to Green Bay for inclusion in the U.S. Interstate Highway System back in 2005.