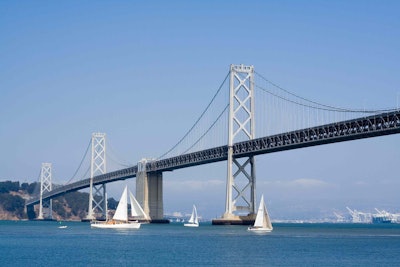 Inside the highway and bridge industries
By John Latta, jlatta@randallreilly.com
Using different tolls for different times of day and for different vehicles is an increasingly common consideration for agencies facing gridlock or suffocating congestion on a regular basis.
It's a still a work in progress and lacks enough long-term data to be precisely engaged. Los Angeles has recently opened two stretches of freeway using a version of it and a number of cities are working with their own versions. Now comes a case study, using the term "variable pricing" rather than "congestion pricing" or other phrases often used to describe the practice.
In midsummer of 2010 bridge tolls were raised for peak period travel across the San Francisco–Oakland Bay Bridge. The variable pricing model is designed to ease congestion, improve safety and make rush hour travel less stressful.
But did it work?
A University of California Transportation Center at Berkeley report shows that variable pricing can change driving habits and patterns, but does it do so as intended and does it give the desired results? The report answers some but not all of the questions.
The report notes that carpoolers who previously traveled for free during peak hours were charged an electronic toll under this variable pricing scheme. And after 29 months of study, says the report, we can say that "the introduction of carpool charges had a stronger impact on traffic volumes than did peak period pricing of regular traffic." What happened, says the report, is that significant numbers of peak hour carpoolers did not travel, switched routes, shifted to public transit, or opted to drive alone. More than half the loss in carpool traffic was estimated to be attributable to the toll increase, a far stronger influence than factors such as rising gasoline prices and unemployment."
With regular traffic, variable pricing was not quite so influential. Regular rush hour drivers' reaction to variable pricing showed that "peak period motorists were fairly insensitive to pricing" and the report also notes that many of the journeys were not made by choice – it was how you got to work or got home.
The variable pricing toll adjustments sent bridge tolls from $4 to $6 during peak hours (5 to 10 a.m. and 3 to 7 p.m.) and retained the previous $4 toll for all other periods, except weekends when a $5 toll is charged. So peak hour motorists ended up paying a 50-percent surcharge relative to what they previously paid and relative to those who travel during non-peak weekday hours. Also, as the report points out, the practice of allowing free passage to carpoolers, motorcyclists, and vehicles with clean-air decals ended and a $2.50 levy was charged to vehicles using the bridge's high-occupancy vehicle (HOV) lanes during peak hours. These vehicles were also required to have a FasTrak electronic transponder for automatic toll collection.
Commuter buses and vanpools carrying 11 to 15 passengers could continue traveling at no charge during peak periods when equipped with a nonrevenue FasTrak electronic tag.
Pitching Concrete
A British firm has developed a tent of a flexible canvas material that, when saturated before it is inflated or hosed down after it's pitched (by just two people), hardens into concrete. So you pitch a canvas tent and 24 hours later it's a concrete building. The company was apparently inspired by the way casts are placed on broken bones, wetted and then harden. While it may have been designed primarily for military purposes, the most valuable way to use it might be to house people displaced into horrible conditions by natural disasters.
The shelter comes delivered flat-packed in airtight and water- and rot-proof plastic sacks. Blow it up with an electric fan, then hose it down and wait. Not much good for camping of course because once the Concrete Canvas Shelter is up and set, well it would take some serious demolition equipment to get it down.
Wireless Safety Model Testing
The University of Michigan Transportation Research Institute (UMTRI) has been awarded a $14.9 million contract from the U.S. Department of Transportation to conduct a safety pilot model deployment of Vehicle-to-Vehicle (V2V) and Vehicle-to-Infrastructure (V2I) safety applications.
The 30-month program will establish a real-world, multimodal test site in Ann Arbor, Mich., for enabling wireless communications among vehicles and roadside equipment for use in generating data to enable safety applications. Passenger cars, commercial trucks, and transit buses will be included that are equipped with a mix of integrated, retrofit, and aftermarket V2V and V2I-based safety systems, a technology that could prevent thousands of crashes.
The data generated will be used for estimating safety benefits in support of future decisions by the U.S. DOT, as well as for use by the broader transportation industry in developing additional safety, mobility, and environmental applications using wireless technologies. The testing phase will last a year and include approximately 2,850 vehicles.
STOP Signs or Traffic Lights
Are traffic lights always preferable to stop signs?
It's not a new debate, and this time it's a suburb in Brooklyn, N.Y., that is raising the issue.
It seems cars speed through residential streets in Boerum Hill and now some locals believe that traffic lights bear a major part of the blame as they encourage drivers to race between streets to make green lights. And by extension speed up to get through orange lights to make the next green. Stop signs they say would be a better, safer, alternative. Speed bumps and "slow zones" are being tossed into this one. We're not talking the major thoroughfares, but the adjacent residential streets.
I haven't seen much research data on this — if you know of any let me know — but it would seem that the answer will vary with the situation. Nonetheless, it wouldn't hurt to have authorities and citizens approach the question of their neighborhood with some studies to help them solve the problem. The Boerum Hill debate feels like both sides are starting out with nothing except good will and their own experience to get the problem solved. I'm not suggesting a computer-generated answer with minimal public input, far from it, but without some decent data the decision might end up being something of an educated, and experimental, guess.
SAY WHAT?
"Because of its shortcomings — driving range, cost and recharging time — the electric vehicle is not a viable replacement for most conventional cars. We need something entirely new."
 – Takeshi Uchiyamada, the "father of the Prius," on why fuel-cell vehicles hold far more promise than battery electric cars.