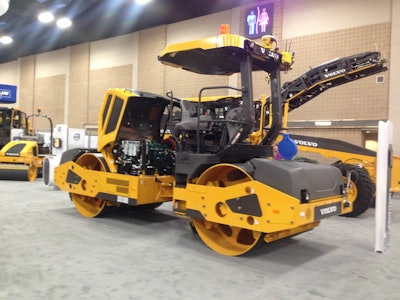 Volvo introduced its DD110B asphalt compactor at World of Asphalt today.
The DD110B will start shipping in 45 days.
The DD110B compactor, which is replacing DD90, features larger drums, more amplitude, higher frequency, increased centrifugal force and more water storage (made possible with two tanks) than its predecessor and is powered by a Tier 4i Volvo engine.
Volvo also included a new operator system with new features like a six-way adjustable seat, tilt steering wheel, instrument cluster and a newly-designed ROPS canopy.
This compactor has three drum options: 2 amplitude high frequency, 8 amplitude high frequency and 8 amplitude high frequency and altitude. Other features include manual and automatic modes, two water pumps, rubber drum wipers, cocoa fiber mat, backup alarm, infrared temperature package, pre-cleaner air filter, fuel strainer, four halogen HID lights, two strobe lights and a winterization package.
The DD110B is serviceable from the ground, comes factory-programmed for 10 impacts per foot, and comes with Volvo support and diagnostics.
Other models in the DD Series of asphalt compactor include the 12-ton, 78-inch-wide DD120B and the 14-ton, 84-inch-wide DD140B.
[youtube cxKwPhPCfKc nolink]