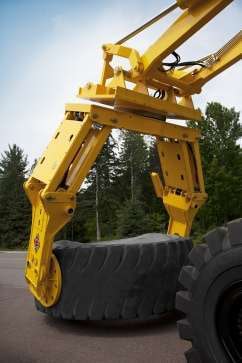 Iowa Mold Tooling's revamped lineup of H20K167 and TH36K164 TireHand tire manipulators are available in loader or forklift truck-mounted options and provide capacities ranging from 5,500 to 36,000 pounds. The two new models – the TH20K167 and TH36K164 – offer 20,000 and 36,000 pounds of capacity, respectively.
Design enhancements include an optimized pad design that features a new grip pattern and tapering, enabling a firm grip on the tire without damage; increased arm length that allows the TireHand to reach the back flange on the wheels; a minimized arm profile that reduces interference with chassis components; dual pinion pad rotation that reduces pinion stress while increasing life; and 100-degree cylinder body rotation that moves the center of gravity closer to the machine, allowing a smaller loader to be used.
Integrated fallback protection arms are hydraulically controlled for easy operation and improved operator safety. The feature can be activated from the control panel or a remote control. Options include quick-coupler attachments, fully proportional controls and a mounted camera.