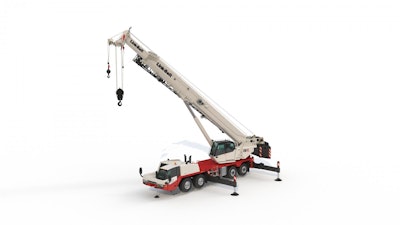 Link-Belt Cranes
Link-Belt has introduced its largest truck terrain crane with the new four-axle 120-ton 120|TTLB.
The new crane features a 197-foot seven-section pin and latch boom. All-wheel steering and a steerable rear axle with four steering modes – independent front, independent rear, combination, and crab – provide a tight turning radius for easy maneuverability on jobsites.
The 120|TTLB is powered by a 445-horsepower Cummins X12 Series engine. The top speed is 55 miles per hour. Air disc brakes offer advanced braking performance, while the air ride suspension provides a smooth ride.
Other models in the lineup include the 75-ton HTT-8675 Series II, 100-ton HTT-86100, 110-ton HTT-86110, and 120-ton 120|TT.