Common Ground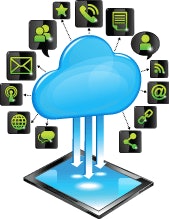 Will it finally be possible for all of your software to work together?
By Wayne Grayson
Five software companies have joined together to create the Construction Open Software Alliance, launched during the Associated General Contractors of America's IT Forum Conference in August. The companies that form the alliance are: SmartBidNet, Sub, Note Vault, Cloud Takeoff and Online Plan.
The lack of interoperability between construction software programs prompted the alliance, notes James Bernham of JB Knowledge Technologies.
"Why isn't asynchronous collaboration built into all of the software contractors use?," he said, pointing out the easy experience of using cloud services like Google Docs, Gmail and Dropbox, which effortlessly and instantly sync documents and data across devices for millions each day. "It should be."
In a recent survey Bernham took of construction IT professionals, 40 percent of the respondents said the software they use didn't integrate or talk with one another. Because of that, 52 percent of the survey respondents said they use Microsoft Excel spreadsheets to transfer data and 35 percent use some other manual process (see chart).
"This has to change. We have to have structured data," Bernham says.
The alliance wants to create a seamless way to share data between the software applications contractors depend on most.
"We believe that a one-stop-suite is not always the best choice and that it can be much more efficient for the end user to operate multiple applications when they integrate seamlessly," the alliance website mission statement reads. "This can be achieved by an open applications standard built and accepted by industry application developers, which streamlines the transfer of cross-application data."
This is not a new effort. Back in 2007, AGC released the agcXML standard "as the first effort to standardize and encourage the efficient exchange of data between solutions in the industry," as agxml.org says.
However, the vast majority of industry technology providers have not adopted the agcXML standard and its development has stalled, not even making it to version 1.0. The alliance wants to change that, Bernham says.
"Right now, (contractors are) doing what we call point-to-point integration," Christian Burger of Chicago's Burger Consulting Group says of manually mapping data from one construction software application to another. "In the world of XML, as we move forward, you won't have to do that."
Burger said the team behind agcXML is working on standardized "schema" that software developers can build into their applications that would allow those applications to easily transfer data to others. For example, with timecards, there would be a schema for employee name or ID number, hours, etc.
"We're just deciding on the schema and after that's done, all software developers can write their programs that deliver timecards with that same standard," Burger says. "We're essentially reducing the cost of maintaining integration."
Burger says agcXML hopes to have 20 viable schema built by the end of this year.
"My hope is that contractors will start demanding that it happen more quickly," he says. "That ability to tag data and build integration with those tags could be on par with Building Information Modeling in terms of disruption. XML is going to be one of the most disruptive technolgoies in the next five years. It will change the way developers build software and it will change the way we interact with other systems."
Burger says once more software developers begin using agcXML, construction IT departments will begin to have the type of choice that consumers have been enjoying from mobile device app stores for years. For instance, if you're looking for an email or Twitter app, you don't have to worry if those apps are going to communicate with other apps on your smartphone or tablet. Because they're all built on the same operating system standard, they just do.
Bernham says that the alliance wants to give contractors that type of easy app shopping so they can quickly integrate software and begin seeing real-time integration. "We want quality, robust, out-of-the-box integration," Bernham says. He also said the alliance wants to see the growth, development and expansion for intersoftware connections though agcXML.
"It's going to be a long road up this hill but we really believe we can make some headway," Bernham says.