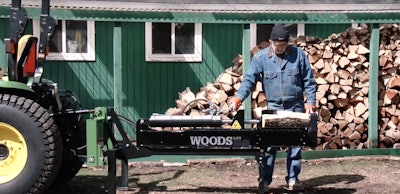 Woods Equipment's new HLS3 Log Splitter makes quick, convenient work of making piles of firewood.
The device can be attached to Category 1 and 2 tractors, so it can be moved to where the wood is. It can also operate in horizontal and vertical positions. It runs on the tractor's PTO.
The splitter's 8-inch wedge and integrated log cradle can handle logs that are as long as 24.5 inches and tackle the difficult wood, like wet elm, the company says. It produces up to 22 tons of splitting force and has a 13-second cycle time.
After splitting a log, the auto-return valve automatically sets up the splitter to handle a new log.
Woods said it made the splitter's beam of high-strength U.S. steel, and its high stress areas are reinforced. The beam's interlocked footplate adds to its durability, the company says.
Accessories sold separately for the splitter include a four-way wedge, a log catcher and hose kit.
To watch a video of the splitter in action, see below: