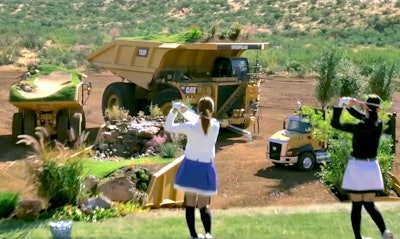 As if golf wasn't frustrating enough, the evil minds at Caterpillar thought it would be fun if the holes moved.
But how does one create a moving golf course? After all, though they may be hard to hit, greens aren't exactly small. Luckily, Cat happens to be the manufacturer of some of the biggest dump trucks on earth.
So, for the sixth installment of its series of Built for It Trials, Cat filled several of its mining and dump trucks and the 982M wheel loader with a lot of dirt and then covered that dirt with sod to build the world's first golf course on wheels. Then they asked two professional Japanese golfers, twin sisters Erimo and Marimo Ikeuchi, to—pun warning—give the course a shot.
Watch below to see how they faired. (That's the last one. Promise.) And if you want to see the three-day process of building a golf course in the back of a bunch of trucks, check out the behind-the-scenes video further down.