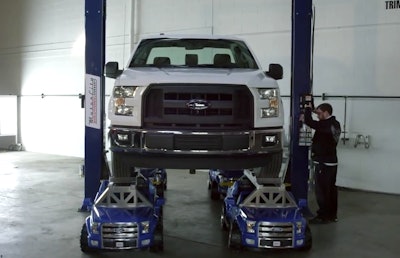 Remember the Power Wheels 2015 Ford F-150? It was announced last year, but in the time since, Ford and Fisher Price decided to put the toy truck's two years of engineering through a pretty rigid, though simple, test.
At first glance, and especially if you can recall the feel and handling of a Power Wheels vehicle from your youth, it doesn't seem like these tiny trucks could withstand a whole lot of stress. Confident in their product, Fisher Price decided to place the full weight of a 2015 F-150 across four of the Power Wheels models. And somehow, they weren't crushed. Check out the video below.
By the way, just in case you were considering one of these for your little ones and this threw you over the edge, Walmart sells them for $330 while Toys-R-Us has a sweet Extreme Sport edition for $400.