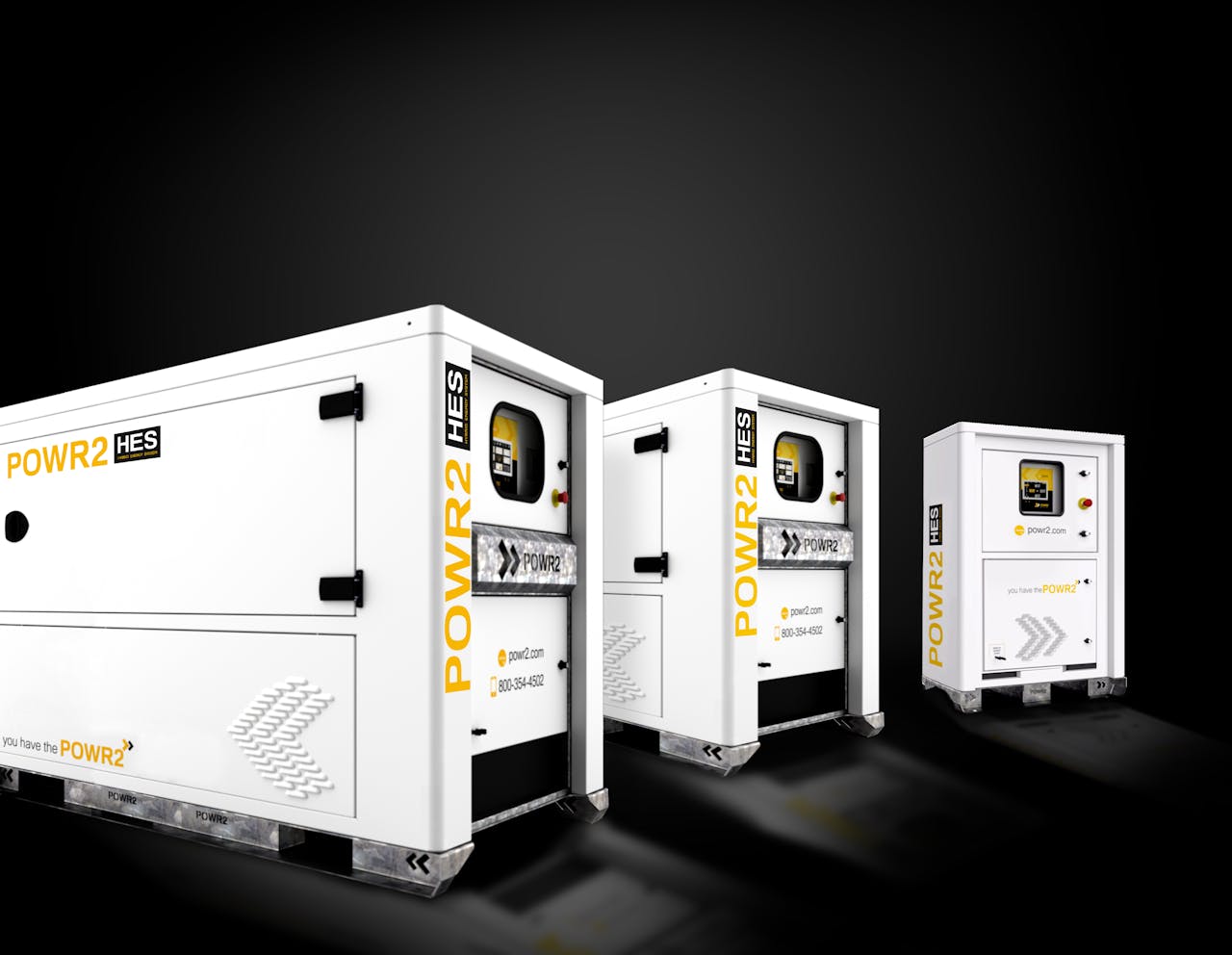 POWR2 has introduced a hybrid portable power supply to integrate with diesel generators.
The Hybrid Energy System allows operators to switch from diesel to electric operation. The new product is designed for power rental companies. The HES reduces noise and emissions from diesel generators and cuts fuel and maintenance costs, the company says.
The HES automatically alters power load between it and the diesel generator as needed. The HES can even store energy, including when paired with systems that produce solar, wind or hydroelectric power. It is powered by lithium-ion batteries.
Operators select from three run modes when using the HES with a diesel generator:
Timer mode – The generator is set for constant run times. This is for periods of high power demand.
HES – In this mode, the HES becomes the primary power source. The generator kicks in only to charge the HES battery. This can be used during times of lower power demand or when the generator is larger than the needed power draw. It also is beneficial for noise-sensitive environments.
Load sensing – The third mode automatically switches between the generator and HES to meet power demand. The company says this is ideal when power needs fluctuate throughout the day and also for remote locations, such as oil and gas operations or emergencies. It provides an uninterrupted power supply if the generator should fail.
Along with efficiency and cost and emission reductions, HES solves a problem inside diesel generators. The company says the system eliminates low-load wet stacking, which occurs when unburned diesel fuel creates wetness in the exhaust system. The company adds that such wet stacking is particularly harmful to Tier 4 Final engines.
The HES also cuts carbon-dioxide emissions by 80 percent on diesel engines by reducing the amount of time the generator has to run, the company says.
"Working with our global partners, we have found a way to effectively eliminate low-load wet stacking that occurs in generators, all while reducing CO2 emissions, which is taking things a step further than Tier 4 Final regulations," says Toby Nunn, POWR2 operations director.
The company says it also had a chance to put the noise-reduction abilities of HES to the test while powering concessions and other equipment at this year's AT&T Byron Nelson PGA Tour golf tournament.
"Attendees and camera crews were able to enjoy the tournament during the day without noise and emissions," Nunn says. "The generator replenished the stored energy in the HES at night when it wouldn't bother anybody."
POWR2 offers six HES models with outputs from 3.7 kilovolt-amperes to 60 kVA. Storage ranges from 7.5 kilowatt-hours to 120 kWh.
All models are equipped with a 7-inch touchscreen that retrieves data from all connected devices, including inverters, batteries and diesel gen sets. It then displays the information to show which energy source to use and which loads to prioritize. POWR2 also offers energy management software for HES for reporting and business intelligence, remote asset management and customer billing.
The HES range features remote generator start and remote communication, including GPS location tracking. All models include forklift pockets, lift and drag skid lift points and temperature-control features. The company says the HES units are maintenance free and come with a three-year warranty.