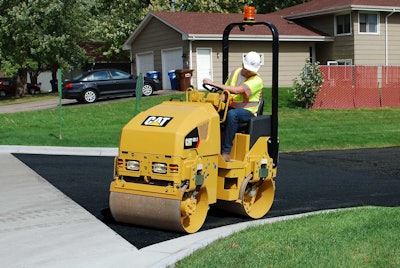 Aimed primarily at the rental market and use in smaller jobs like bike paths, patchwork, parking lots, driveways and shoulder work, Cat has introduced two new utility compactor models designed to allow operators to quickly get to work.
Making their debut at last week's World of Asphalt show in Houston, the new Cat CB1.7 and CB1.8 are named after their metric tonne size class (1.7t and 1.8t).
During a walkaround and media briefing on the new CB1.8, Cat's Brian Nagel said that thanks to an industry leading weight for this size class of machine, the CB1.8 creates more PLI (pounds per linear inch) than any competitor.
Both machines are powered by a Cat C1.1 engine. "This engine just has a muffler," Nagel said. "There's no aftertreatment. From an owning and operating standpoint it gets back to what a lot of guys wish they could have on the larger machines."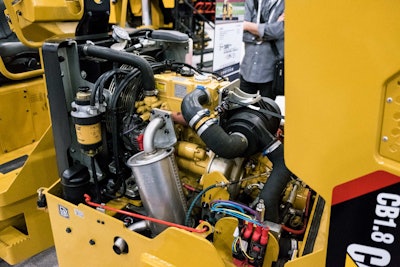 That theme of simplicity extends to operation of these new models. To ease activation of machine functions, Cat opted for simple and intuitive rocker switches. Propel is controlled through a mechanical lever with quick reaction and precise control. Cat has also outfitted the switches on the operation panel with LED lights for continued ease of control in low light conditions.
"With this machine being a heavy rental type market as well as retail, we wanted to make sure that once it's in the customer's hands, they're happy with it and they don't have to think twice about it," Nagel said. "They don't have to think about maintaining it and the costs associated with that. They don't have to worry about who's operating it. The goal is to have the operator hop on the machine, be able to look at the functions of it, and be able to focus on the job and not so much learning and trying to understand how to operate the machine."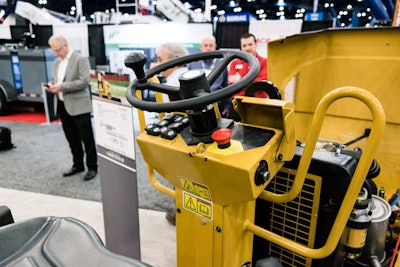 The 39-inch drum on these machines are outfitted with a double bevel, similar to what you'd find on a larger roller, Nagel said. "It's a large bevel that you can see at the edge and then a very sharp, tight radius to ensure that you're not marking the mat as the machine is used," he said.
To simplify transport, the CB1.7 and CB1.8 feature a durable hitch design and can be equipped with an optional single lift point.
"Whether you're lifting it on and off a trailer with maybe a skid steer or a crane to send it out, or maybe you're picking it up and dropping it in a trench somewhere to do some dirt work and compact a base. We're finding more and more that that's a pretty popular option that people see value in. It's very popular in Europe and it's gaining popularity in North America," Nagel said.
The machines are equipped with an industry-leading 38-gallon water tank allowing for longer operation on the jobsite. Though it's not a machine used for extremely long periods of time, operators will still appreciate the reduced vibration thanks to the isolated design of the operator's station.
Both machines are available with either a fixed or folding ROPS.