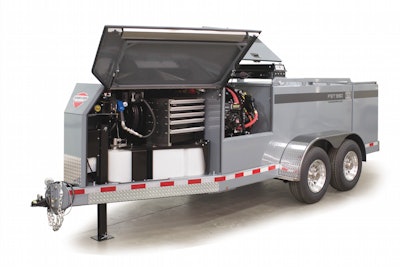 Designed for fuel and DEF delivery and field service, Thunder Creek Equipment offers three FST Series trailer models, available in 500-, 750- and 990-gallon diesel capacities with a 100-gallon DEF tank and an optional field-installed rear utility box.
The trailers have a low profile and baffled fuel tanks that allow both on-road highway speed travel and off-road jobsite use. A closed-loop DEF delivery system features a two-in-one DEF pumping system with the poly tank nested into the trailer frame for a low center of gravity, high pump flows and auto shut-off.
The trailers have 75 cubic feet of space in the front and pump enclosures for tool storage, as well as an additional 60 cubic feet available with the optional rear utility box. Hatch-style doors allow unrestricted access to the pumping systems and control, and interfaces are positioned at operator height.
A 25-percent stronger frame ensures the FST Series handles a variety of environments, and the trailers feature seven gauge steel and double-welded seams. Replaceable fenders and a rock guard provide protection from rock chips and damage.