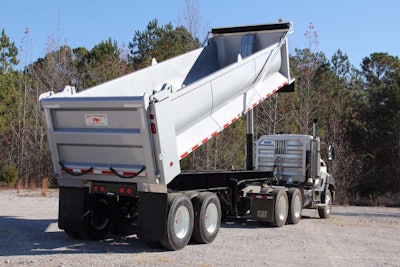 Ox Bodies has introduced a new customizable range of its Trail Ox Series of end dump trailers that will provide construction crews with more versatility for all hauling, including aggregates, riprap and asphalt.
The company offers different options like full-frame or quarter-frame versions. The full-frame option can haul large loads, while the smaller frame works best for mid-range haul distances.
Each trailer is 96 inches wide, 36 to 60 inches tall on the sides, 22 to 30 feet long and can carry up to 51.2 cubic yards. The trailers are seam-welded to reduce the debris collection and the affects of corrosion on the body and chassis.
Ox Bodies, part of Truck Bodies and Equipment International, offers a two-year warrantee on each trailer.