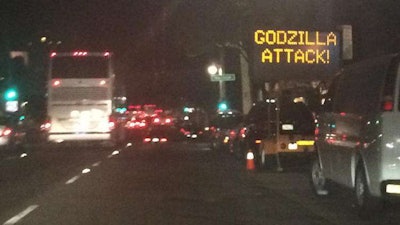 A highway message board used to alert drivers to backups and road work in San Francisco recently warned drivers of a "Godzilla attack" and urged drivers to "turn back," NBC Bay Area reports.
Despite the timeliness of the messages, the signs were not part of a campaign for the new "Godzilla" movie, wherein a massive lizard descends upon San Francisco.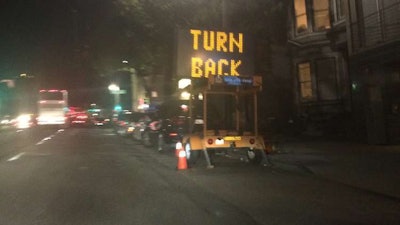 According to SFGate, the signs were intended to warn drivers about street delays the Bay to Breakers race, which occurred Sunday. However, an unknown prankster hacked into the sign and changed the message.
Paul Indelicato, owner of Pacific Highway Rentals that provides the boards to the city, said the locks and messages have since been changed. Though the prankster did not have permission to change the messages, Indelicato said it gave him a good laugh.
"We're guessing it's someone who knew the combination and put the message up there," Indelicato told SFGate. "It only takes a minute to change the message. Someone was having fun."
Editor's Note: Amanda Bayhi is the online managing editor for sister sites Better Roads and Aggregates Manager.