Fighting for it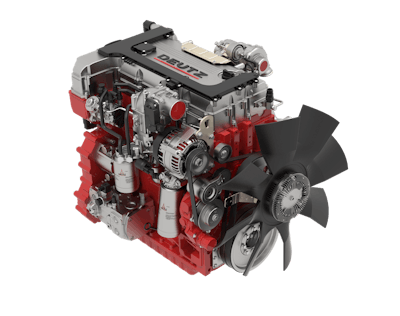 s share of the world engine market, Deutz showed attendees at Bauma last week a new 5-liter TDC 5.0 engine.
Designed from scratch, this engine has a clean, almost cube-like appearance owing to the fact that engineers incorporated many of what normally are bolt-on components into the actual block.
This ultra compact engine drops into the same footprint as the company's 4L engine, giving you some idea of how much the company has improved power density. It has a single, overhead camshaft, variable geometry turbocharger and cross-flow cylinder heads.
To conserve space, the valve cover integrates the air duct, crankcase ventilation and fuel injection. The layout is four-cylinder, in line. It is rated for 100 to 150 kW (134 to 201 horsepower). The hot and cold sides of the engine are split to eliminate the need for heat shielding. The PTO is integrated into the rear of the engine block, saving on space and costs as well.
The aftertreatment solution for the TDC 5.0 does not require exhaust gas recirculation (EGR) which means high sulfur fuel found in many developing countries won't affect its performance.
The engine will meet the European Stage V emissions regulations (due in 2019) and EPA Tier 4 Final with what Deutz calls its DVERT or Deutz variable emissions reduction technology. DVERT combines a diesel oxidation catalyst (DOC) with a diesel particulate filter (DPF) and selective catalytic reduction (SCR).
Deutz also introduced a new three-cylinder variation on its TCD 2.9 four-cylinder engine. The new TDC 2.2 is aimed at the compact equipment market and low-load applications such as material handlers. The company has also developed new 2.2 and 2.9 liter engines that will run on liquefied natural gas (LNG), designated as G 2.2 and G 2.9.