ASV
Duffy's Sales & Rental, Barron, Wisconsin, has been named ASV Holdings' 2020 Dealer of the Year. ASV also named CLM Equipment, Lafayette, Louisiana, as its 2020 Rookie of the Year.
"Duffy's Sales & Rental and CLM equipment went above and beyond representing the ASV brand and showing a passion for the equipment that is hard to miss," says Jeff Pate, director of sales for the ASV brand.
ASV says Duffy's received the recognition because of its "leading sales and extraordinary performance in 2020." An ASV dealer for nearly 30 years, Duffy's provides sales, rental, parts and services for a wide range of construction, landscaping and land clearing equipment.
CLM's Rookie of the Year recognition came as a result of its "outstanding achievements and contributions to ASV in 2020," says ASV. In business for more than 50 years, CLM has three full service branches across the west-central Gulf Coast, offering primarily construction and demolition equipment.
Ziegler Rental adds Magni telehandler line
Ziegler Rental is now the Minnesota dealer for Magni Telescopic Handlers.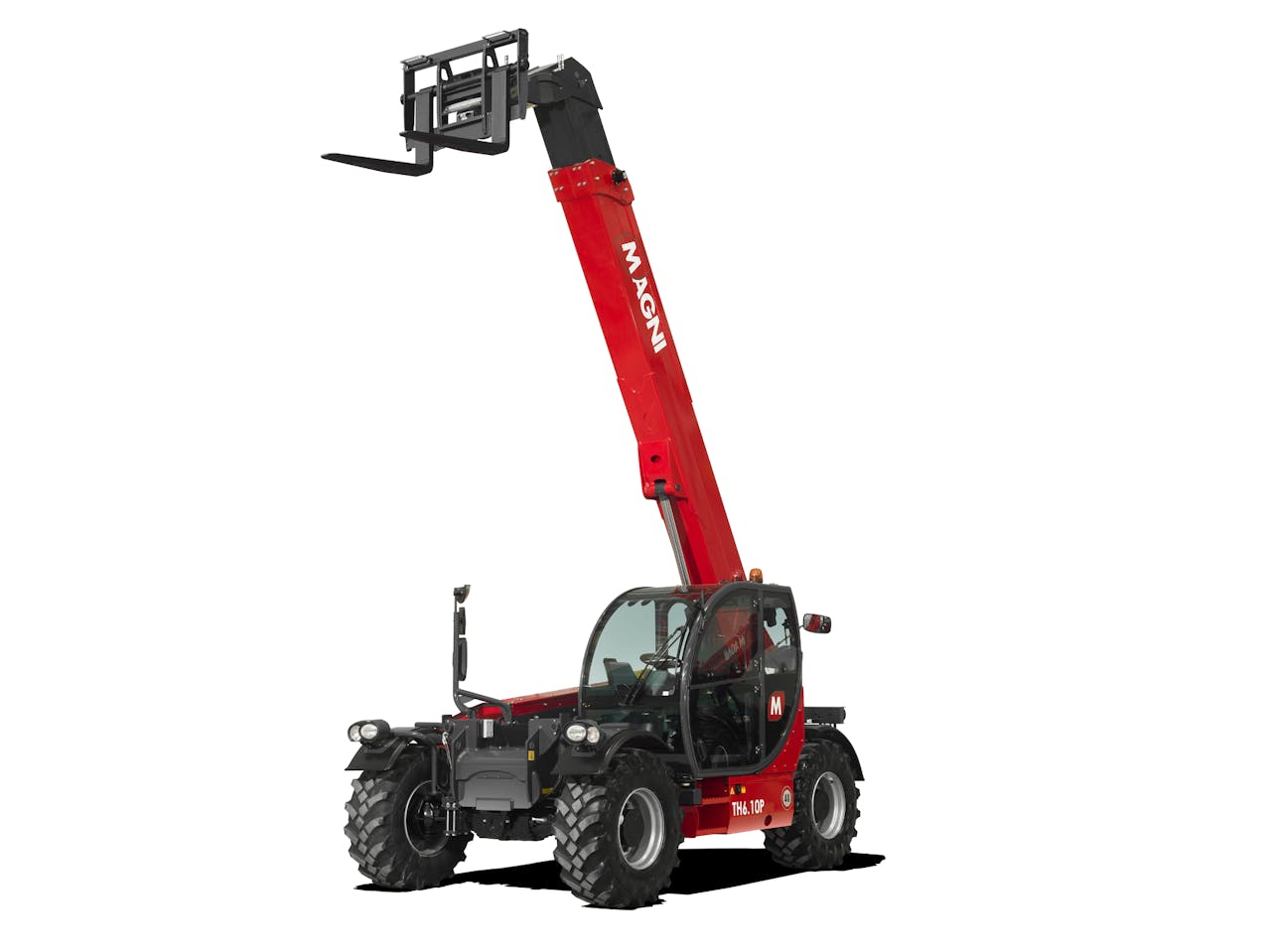 The Magni TH6.10 is one Magni's six new fixed boom telehandler models, featuring a lower center-of-gravity chassis.Magni"Magni's line of rotational and high-capacity telehandlers will make a great addition to our rental fleet," says Ben Seidel, general manager of rental services for Ziegler Rental.
"Our customers will be able to use them in many applications, adding accessories like forks, winches, and platforms, and the 360-degree rotation will give them multi-function capabilities in a 3-in-1 machine."
Ziegler Rental has 24 locations throughout Minnesota and Iowa; it is the first U.S. Cat Rental Store to become an authorized Magni dealer.
Italy-based Magni recently combined its Kansas and New Jersey operations under Magni America and is building a new headquarters in New Jersey. The Kansas operation remains open. Magni says there are currently about 1,000 Magni machines in the U.S., prompting the manufacturer to invest in facilities, parts stocking, training and staffing. The company also has an import/storage yard in Houston.


Takeuchi-US adds Whitesides, Poole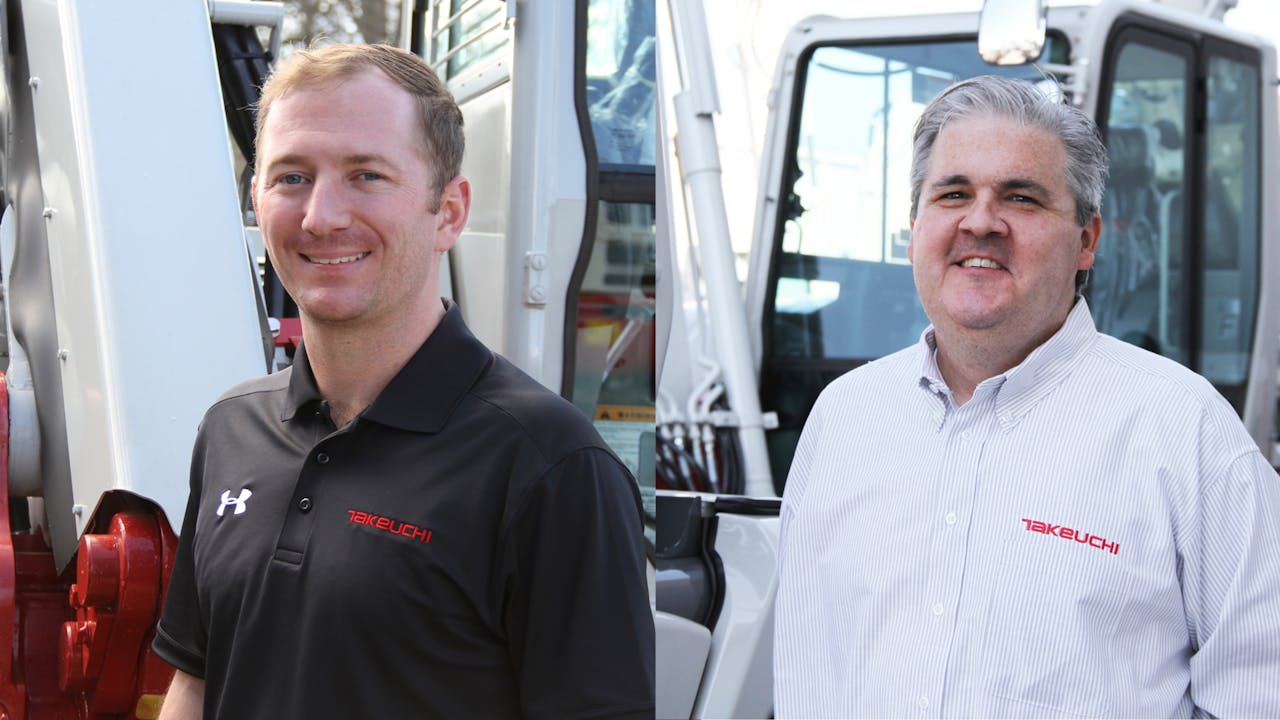 Left to right: Whitesides, PooleTakeuchi-US

Clayton Whitesides has been named central midwest regional manager for Takeuchi-US, managing all sales development and activity within Missouri, Kansas, Oklahoma, Iowa, Nebraska, South Dakota, North Dakota, Montana and West Texas. Whitesides' primary focus will be achieving market share objectives in the dealer development, recruiting, goal setting, sales planning and performance evaluations. He will also be responsible for inventory control, program promotion and communication, forecasting and national and direct rental account support. Whitesides comes to Takeuchi from Doosan Infracore North America.
Ian Poole has joined the company as its new inside sales representative. Poole will be responsible for sales development and support for Takeuchi's dealers and direct accounts. Additionally, he will support Takeuchi's regional business managers in their efforts, including dealer development and recruitment, inventory control, forecasting, program promotion, communication and more.
Altorfer Cat expands in Chicagoland
Cedar Rapids, Iowa-based Altorfer Cat has moved its construction services and power systems divisions from Elmhurst, Illinois, to Mokena, Addison and East Dundee, Illinois. The relocations are part of Altorfer's acquisition of fellow Cat dealer Patten Industries, formerly the Cat dealer in northern Illinois and northwest Indiana, in 2018.
Curry Supply names Nelson regional sales manager
Curry Supply, Martinsburg, Pennslyvania, has named Steve Nelson is Southeast regional sales manager, serving clients in North Carolina, South Carolina, Georgia, Florida, Alabama and Mississippi. Nelson is based in Georgia.
Curry has locations in Pennsylvania, Texas, and Arizona and provides custom and work-ready trucks for the agriculture, construction, mining, oil and gas, rail, rental and waste industries.