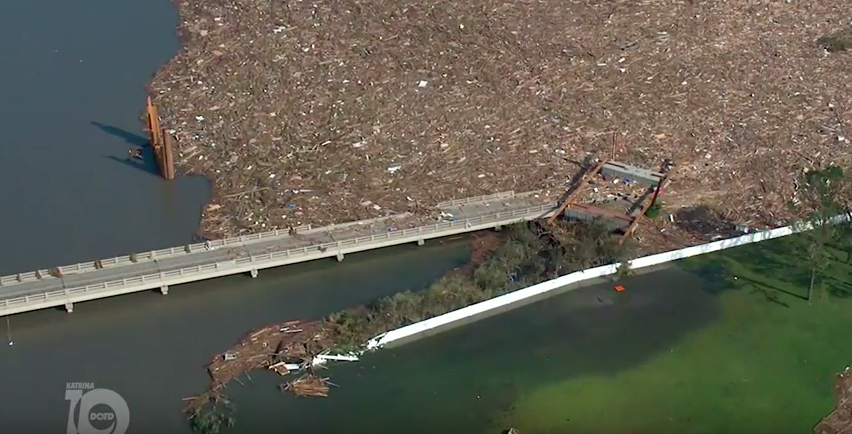 Removing and dealing with the sheer volume of debris was a major challenge for the Louisiana Department of Transportation and Development (LDOTD) following the storm surge, winds and flooding from Hurricane Katrina. But in the following years, the department has created a debris management plan that will make clean up following weather events a much better process.
In it's third video commemorating the 10th anniversary of Katrina, "Removal of Debris Then and Now," LDOTD addresses the challenges faced and how their handling of debris has changed.
"The magnitude of Katrina and the amount of debris it generated, not just from the storm surge and winds but from the flooding, it just produced an enormous amount of debris that we knew we didn't have the resources to handle, we didn't have the equipment to handle," Rhett Deselle, assistant district administrator of operations, District 8, describes in the video. "We didn't have any approved debris management sites at the time, so we had to start finding sites, going through the approval process."
Kirk Gallien, deputy assistant secretary of operations, says LDOTD now has contingency contracts in place for debris monitoring and removal contractors that can be used as needed.
"We have debris disposal sites pre-identified and pre-approved through DEQ (Department of Environmental Quality), so we already know and have pre-approved sites of where we can take the debris and dispose of (it)," he says.
Following Katrina and other storms, including Hurricanes Gustav and Ike (2008) and Isaac (2012), the department has conducted "after action" reviews to follow up on what worked and find ways of fine-tuning their plans.
"Each time we go back and we re-evaluate how good what we have works and we refine it based on the feedback from the people who are out there using it and helping us," Deselle says.
"Those plans are continually updated and improved so emergency operations was not just a one time plan, and then we're finished." Gallien adds. "It continually evolves and continually improves the more times that we respond to events."